2011 – 2012 Ski Doo Rev Xu Snowmobiles Repair 2011 – 2012 Ski Doo Rev Xu Snowmobiles Repair
FILE DETAILS:
LANGUAGE:ENGLISH
PAGES:959
DOWNLOADABLE:YES
FILE TYPE:PDF
VIDEO PREVIEW OF THE MANUAL:
IMAGES PREVIEW OF THE MANUAL: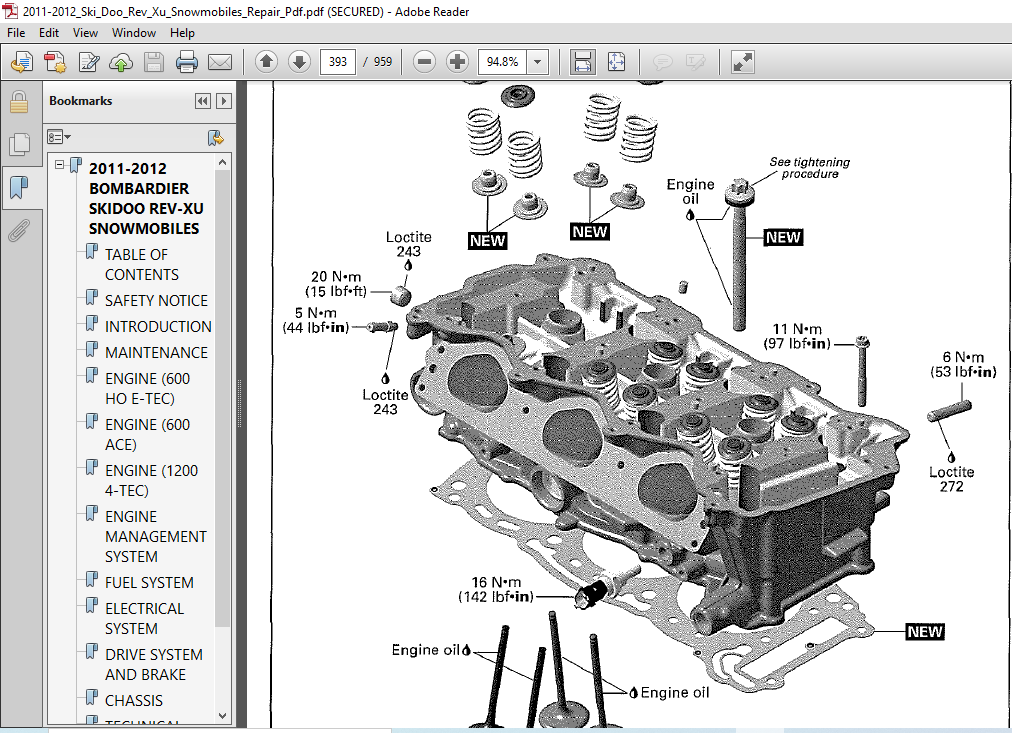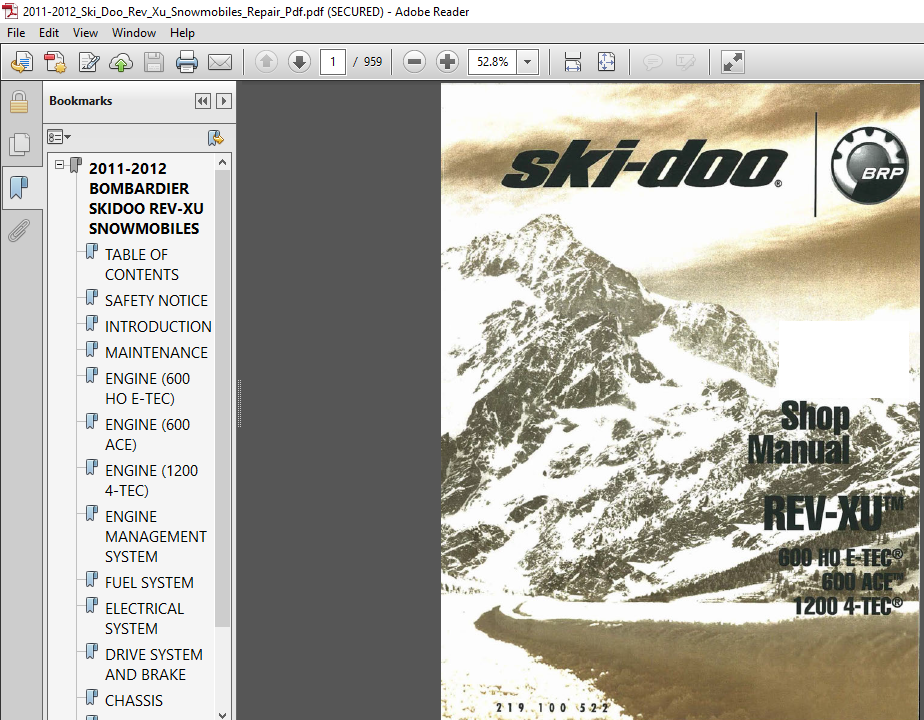 DESCRIPTION:
2011 – 2012 Ski Doo Rev Xu Snowmobiles Repair
INTRODUCTION:
The information and component/system descriptions contained in this manual are correct at time of writing. BRP however, maintains a policy of continuous improvement of its products without imposing upon itself any obligation to install them on products previously manufactured. Due to late changes, there may be some differences between the manufactured product and the description and/or specifications in this document. BRP reserves the right at any time to discontinue or change specifications, designs, features, models or equipment without incurring obligation
This manual has been prepared as a guide to correctly service and repair Ski-Doo® snowmobiles described in the list in the INTRODUCTION. This edition was primarily published to be used by technicians who are already familiar with service procedures relating to Bombardier Recreational Products Inc. (BRP) products. Mechanical technicians should attend continuous training courses given by B.R.P.T.I.
Please note that the instructions will apply only if proper hand tools and special service tools are used. The content depicts parts and procedures applicable to the particular product at time of writing. SERVICE and WARRANTY BULLETINS may be published to update the content of this manual.
Make sure to read and understand them. Dealer modifications that were carried out after manufacturing of the product, whether or not authorized by BRP, are not included. In addition, the sole purpose of the illustrations throughout the manual, is to assist identification of the general configuration of the parts.
They are not to be interpreted as technical drawings or exact replicas of the parts. The use of BRP parts is most strongly recommended when considering replacement of any component. Dealer and/or distributor assistance should be sought in case of doubt. The engines and the corresponding components identified in this document should not be utilized on product(s) other than those mentioned in this document.
TABLE OF CONTENTS:
2011 – 2012 Ski Doo Rev Xu Snowmobiles Repair
SAFETY NOTICE XIV
INTRODUCTION XV
VEHICLE INFORMATION XVI
MANUAL INFORMATION XVIII
FASTENER INFORMATION XXII
01 MAINTENANCE
01 – BREAK-IN INSPECTION 9
02- PERIODIC MAINTENANCE SCHEDULE (600 HO E-TEC) 11
03- PERIODIC MAINTENANCE SCHEDULE (600 ACE AND 1200 4-TEC) 13
04- PERIODIC MAINTENANCE PROCEDURES 15
GENERAL 15
PROCEDURES 15
ENGINE 15
FUEL SYSTEM 26
ELECTRICAL SYSTEM 28
DRIVE SYSTEM AND BRAKE 31
CHASSIS 36
05- STORAGE PROCEDURE 39
06- PRESEASON PREPARATION 41
02 ENGINE (600 HO E-TECI
01- ENGINE REMOVAL AND INSTALLATION 43
GENERAL 45
PROCEDURES 45
ENGINE 45
ENGINE STOPPER 50
ENGINE SUPPORT 51
ENGINE RUBBER MOUNT53
02 – ENGINE LEAK TEST 55
TROUBLESHOOTING 56
PROCEDURES 57
ENGINE 57
PUMP SHAFT OIL GEAR RESERVOIR58
03- ENGINE MEASUREMENT 61
PROCEDURES 61
CYLINDER HEAD WARPAGE 61
CYLINDER TAPER 61
CYLINDER OUT OF ROUND 61
CYLINDER/PISTON CLEARANCE 62
RING/PISTON GROOVE CLEARANCE 63
RING END GAP 64
CRANKSHAFT DEFLECTION 64
CONNECTING ROD BIG END AXIAL PLAY 65
CRANKSHAFT ALIGNMENT 65
PISTON PROJECTION MEASUREMENT 66
04- AIR INTAKE SYSTEM 69
GENERAL 70
PROCEDURES 70
AIR FILTER 70
PRIMARY AIR INTAKE SILENCER 70
SECONDARY AIR INTAKE SILENCER 71
TABLE OF CONTENTS
02 ENGINE (600 HO E-TECI (cont'd)
II
05 – EXHAUST SYSTEM 75
GENERAL 76
PROCEDURES 76
MUFFLER 76
EGTS SENSOR 76
TUNED PIPE 77
MANIFOLD78
06- LUBRICATION SYSTEM 79
GENERAL 81
SYSTEM DESCRIPTION 81
RECOMMENDED INJECTION OIL 82
INSPECTION 82
OIL SYSTEM LEAK TEST 82
TROUBLESHOOTING 83
PROCEDURES 83
OIL PUMP 83
OIL TANK 86
OIL LEVEL SENSOR 90
INJECTION NOZZLE 90
07 – COOLING SYSTEM 93
GENERAL 95
INSPECTION 95
COOLING SYSTEM LEAK TEST 95
TROUBLESHOOTING 95
PROCEDURES : 96
WATER PUMP 96
THERMOSTAT 96
COOLANT TANK CAP 97
HEAT EXCHANGER 97
COOLANT TANK 97
COOLANT TEMPERATURE SENSOR ICTSI 97
FRONT RADIATOR 97
COOLING FAN 99
08- MAGNETO SYSTEM 101
GENERAL 103
PROCEDURES 103
MAGNETO FLYWHEEL 103
STATOR 105
CRANKSHAFT POSITION SENSOR (CPS) 107
09- RAVE 109
GENERAL 111
SYSTEM DESCRIPTION 111
TROUBLESHOOTING 112
DIAGNOSTIC TIPS 112
TROUBLESHOOTING GUIDELINES 112
PROCEDURES 113
3D RAVE VALVES POSITION SENSOR 113
3D RAVE VALVES 114
CHECK VALVES (ACTUATOR CIRCUIT) 123
CHECK VALVES (LUBRICATION CIRCUIT) 123
SOLENOID 124
10-TOP END 127
GENERAL 129
ENGINE BREAK-IN 129
02 ENGINE (600 HO E-TEC) (cont'd)
10 – TOP END (cont'd)
TABLE OF CONTENTS
INSPECTION 129
ENGINE COMPRESSION TEST 129
PROCEDURES 130
REED VALVES 130
CYLINDER HEAD 130
CYLINDERS 131
CYLINDER BASE GASKET 131
PISTONS 132
11- BOTTOM END 135
GENERAL 137
ENGINE BREAK-IN 137
PROCEDURES 137
WATER PUMP 137
BEARING CARRIER AND PUMP SHAFT 138
CRANKCASE 142
CRANKSHAFT 144
03 ENGINE (600 ACE)
01- ENGINE REMOVAL AND INSTALLATION 151
GENERAL 152
PROCEDURES 152
ENGINE 152
ENGINE SUPPORTS 157
ENGINE RUBBER MOUNTS 159
02- AIR INTAKE SYSTEM 161
GENERAL 163
PROCEDURES 163
AIR FILTER 163
AIR INTAKE SILENCER 163
INTAKE MANIFOLD 164
03 – EXHAUST SYSTEM 167
GENERAL 168
PROCEDURES 168
EXHAUST PIPES 168
EXHAUST FLANGE 169
MUFFLER 169
04- LUBRICATION SYSTEM 171
GENERAL 174
SYSTEM DESCRIPTION 174
INSPECTION 174
ENGINE OIL PRESSURE 174
TROUBLESHOOTING 175
PROCEDURES 176
OIL PRESSURE SWITCH (OPS) 176
OIL FILLER TUBE 177
OIL TANK 178
OIL COOLER 179
ENGINE OIL PRESSURE REGULATOR 180
OIL PUMP DRIVE GEARS 181
OIL PRESSURE PUMP 182
OIL SUCTION PUMP MODULE 184
OIL SUMP COVER 187
Ill
TABLE OF CONTENTS
03 ENGINE {600 ACE) (cont'd)
IV
05- COOLING SYSTEM 191
GENERAL 194
INSPECTION 194
COOLING SYSTEM LEAK TEST 194
TROUBLESHOOTING 195
PROCEDURES 195
COOLANT RESERVOIR CAP 195
COOLANT RESERVOIR 195
THERMOSTAT195
WATER PUMP 197
WATER PUMP DRIVE GEARS 202
HEAT EXCHANGER 202
RADIATOR202
COOLING FAN 203
06- MAGNETO AND STARTER 207
GENERAL 209
PROCEDURES 209
MAGNETO COVER 209
STATOR 212
ROTOR 213
SPRAG CLUTCH 215
SPRAG CLUTCH GEAR 216
STARTER DRIVE GEARS 217
STARTER 217
07- TIMING CHAIN 221
GENERAL223
TROUBLESHOOTING 223
PROCEDURES 223
TIMING CHAIN TENSIONER 223
CAMSHAFT TIMING GEARS 224
TIMING CHAIN 229
CHAIN GUIDE (TENSIONER SIDEI 233
08 – CYLINDER HEAD 235
GENERAL239
INSPECTION 239
CYLINDER LEAK TEST 239
TROUBLESHOOTING 240
PROCEDURES 241
VALVE COVER241
CAMSHAFTS 244
CAMSHAFT HOLDER 246
HYDRAULIC VALVE LIFTERS 246
CYLINDER HEAD 247
VALVE SPRINGS 249
VALVES 250
09 -CYLINDER BLOCK 255
GENERAL258
TROUBLESHOOTING 258
PROCEDURES 258
PTO OIL SEAL 258
CYLINDER BLOCK 260
CRANKSHAFT 267
PISTONS AND CONNECTING RODS 270
PISTON RINGS 276
TABLE OF CONTENTS
04 ENGINE (1200 4-TECJ
01- ENGINE REMOVAL AND INSTALLATION 279
GENERAL 281
PROCEDURES 281
ENGINE 281
ENGINE SUPPORTS 285
ENGINE RUBBER MOUNTS 289
02- AIR INTAKE SYSTEM 291
GENERAL 292
PROCEDURES 292
AIR FILTER 292
INTAKE MANIFOLD 292
AIR INTAKE SILENCER 295
03 – EXHAUST SYSTEM 299
GENERAL 301
PROCEDURES 301
EXHAUST PIPE 301
EXHAUST MANIFOLD 302
MUFFLER 303
04- LUBRICATION SYSTEM 305
GENERAL 309
SYSTEM DESCRIPTION 309
INSPECTION 309
ENGINE OIL PRESSURE 309
TROUBLESHOOTING 310
PROCEDURES 311
OIL PRESSURE SWITCH lOPS) 311
OIL TANK 313
OIL COOLER 314
ENGINE OIL PRESSURE REGULATOR 316
OIL PUMP DRIVE GEARS 317
OIL PRESSURE PUMP 318
OIL SUCTION PUMP MODULE 320
OIL SUMP COVER 323
OIL SPRAY NOZZLES 324
BREATHER 325
05- COOLING SYSTEM327
GENERAL 330
INSPECTION 330
COOLING SYSTEM LEAK TEST 330
TROUBLESHOOTING 331
PROCEDURES 331
COOLANT RESERVOIR CAP 331
THERMOSTAT 331
WATER PUMP 333
WATER PUMP DRIVE GEARS 338
HEAT EXCHANGER • 338
RADIATOR339
COOLING FAN 340
06- MAGNETO AND STARTER 343
GENERAL 345
PROCEDURES 345
MAGNETO COVER 345
STATOR 347
ROTOR • 349
v
TABLE OF CONTENTS
04 ENGINE (1200 4-TECI (cont'd)
06- MAGNETO AND STARTER (cont'd)
PROCEDURES (cont'd)
SPRAG CLUTCH 350
SPRAG CLUTCH GEAR 351
STARTER DRIVE GEARS 352
STARTER 353
07 -TIMING CHAIN 355
GENERAL 357
TROUBLESHOOTING 357
PROCEDURES 357
TIMING CHAIN TENSIONER 357
TIMING CHAIN GEAR358
TIMING CHAIN 360
CHAIN GUIDE ITENSIONER SIDE! 361
08 – CYLINDER HEAD 363
GENERAL 367
INSPECTION 367
CYLINDER LEAK TEST 367
TROUBLESHOOTING 368
PROCEDURES 369
VALVE COVER369
CAMSHAFT TIMING GEARS 373
CAMSHAFTS 376
CAM FOLLOWERS 381
CYLINDER HEAD 381
VALVE SPRINGS 383
VALVES 385
09- CYLINDER BLOCK 389
GENERAL 392
TROUBLESHOOTING 392
PROCEDURES 392
PTO COVER 392
CYLINDER BLOCK 395
CRANKSHAFT 401
BALANCER SHAFT 404
PISTONS AND CONNECTING RODS 405
PISTON RINGS 411
05 ENGINE MANAGEMENT SYSTEM
01- OVERVIEW (600 HO E-TEC) 413
GENERAL 414
SYSTEM DESCRIPTION 414
02- OVERVIEW (600 ACE AND 1200 4-TEC) 417
GENERAL 419
SYSTEM DESCRIPTION 419
03- COMMUNICATION TOOLS AND BUDS 421
GENERAL 421
REQUIRED TOOLS 421
TROUBLESHOOTING 421
DIAGNOSTIC TIPS 421
PROCEDURES 425
MULTI-PURPOSE INTERFACE-2 IMPI-2) 425
BUDS SOFTWARE 428
VI
TABLE OF CONTENTS
05 ENGINE MANAGEMENT SYSTEM (cont'd)
04- DIAGNOSTIC AND FAULT CODES 431
GENERAL 431
MONITORING SYSTEM 431
FAULT CODES434
SPECIFIC FAULT CODES 434
06 FUEL SYSTEM
01 -FUEL TANK AND FUEL PUMP 437
GENERAL 440
SYSTEM DESCRIPTION 440
INSPECTION 443
FUEL SYSTEM PRESSURIZATION AND LEAK TEST 443
FUEL TANK LEAK TEST 444
FUEL PUMP PRESSURE TEST (600 HO E-TEC) 446
FUEL PUMP PRESSURE TEST 1600 ACE AND 1200 4-TECI 447
PROCEDURES 449
FUEL TANK 449
FUEL PUMP 451
FUEL PRESSURE REGULATOR (600 ACE AND 1200 4-TEC) 454
FUEL PRESSURE REGULATOR (600 HO E-TECI 454
FUEL PUMP INLET FILTER 455
STEEL MESH FILTER 457
FUEL LEVEL SENSOR457
02- E-TEC DIRECT FUEL INJECTION 461
GENERAL 461
SYSTEM DESCRIPTION 461
ADJUSTMENT 464
IDLE SPEED 464
CLOSED THROTILE RESET (TPS) 464
TROUBLESHOOTING 465
DIAGNOSTIC TIPS 465
PROCEDURES 466
THROTILE CABLE 466
FUEL INJECTOR 468
ECM (ENGINE CONTROL MODULE) 481
THROTILE BODY 490
THROTILE POSITION SENSOR ITPSI 492
CPS (CRANKSHAFT POSITION SENSOR) 495
AIR TEMPERATURE SENSOR (ATS) 497
COOLANT TEMPERATURE SENSOR ICTS) 499
AIR PRESSURE SENSOR lAPS) 501
EXHAUST GAS TEMPERATURE SENSOR IEGTS) 502
KNOCK SENSOR IKSI 503
03 – ELECTRONIC FUEL INJECTION (600 ACE) 505
GENERAL 505
SYSTEM DESCRIPTION 505
ADJUSTMENT 507
IDLE SPEED 507
TROUBLESHOOTING 508
DIAGNOSTIC TIPS 508
PROCEDURES 508
ENGINE CONTROL MODULE IECMI 508
FUEL INJECTOR 515
THROTILE CABLE 523
VII
TABLE OF CONTENTS
06 FUEL SYSTEM (cont'd)
03 -ELECTRONIC FUEL INJECTION (600 ACE) (cent' d)
PROCEDURES (cont'd)
THROTTLE BODY 526
THROTTLE POSITION SENSOR ITPS) 528
IDLE AIR CONTROL VALVE IIACV) 531
CRANKSHAFT POSITION SENSOR (CPS) 534
MANIFOLD ABSOLUTE PRESSURE AND TEMPERATURE SENSOR IMAPTS) 536
COOLANT TEMPERATURE SENSOR (CTS) 539
04- ELECTRONIC FUEL INJECTION (1200 4-TEC) 541
GENERAL 541
SYSTEM DESCRIPTION 541
ADJUSTMENT 543
IDLE SPEED543
TROUBLESHOOTING 544
DIAGNOSTIC TIPS 544
PROCEDURES 544
ENGINE CONTROL MODULE IECM) 544
FUEL RAIL 551
FUEL INJECTOR 554
THROTTLE CABLE 560
THROTTLE BODY 563
THROTTLE POSITION SENSOR ITPS) 565
IDLE AIR CONTROL VALVE IIACV)568
CRANKSHAFT POSITION SENSOR (CPS) 571
CAMSHAFT POSITION SENSOR (CAPS) 573
MANIFOLD ABSOLUTE PRESSURE AND TEMPERATURE SENSOR IMAPTS) 575
COOLANT TEMPERATURE SENSOR ICTS)578
07 ELECTRICAL SYSTEM
01 -POWER DISTRIBUTION (600 HO E-TEC) 581
GENERAL 581
OVERVIEW 581
SYSTEM VOLTAGE 155 VDC) 581
SYSTEM VOLTAGE 112 VDC)582
POWER DISTRIBUTION SUMMARY 582
02- POWER DISTRIBUTION (600 ACE) 583
GENERAL 583
OVERVIEW 583
FUSES 583
RELAYS 584
GROUNDS585
PROCEDURES 585
RELAYS 585
03- POWER DISTRIBUTION (1200 4-TEC) 589
GENERAL 589
OVERVIEW 589
FUSES 589
RELAYS 590
GROUNDS590
PROCEDURES 591
RELAYS 591
04- COMMUNICATION PROTOCOLS 593
GENERAL 593
CONTROLLER AREA NETWORK (CAN) 593
VIII
07 ELECTRICAL SYSTEM (cont'd)
04- COMMUNICATION PROTOCOLS (cont'd)
GENERAL (cont'd)
TABLE OF CONTENTS
LOCAL INTERCONNECT NETWORK (LIN) 594
PROCEDURES 594
CAN Ll N E TEST 594
LIN LINE TEST 596
05- IGNITION SYSTEM (600 HO E-TEC) 597
GENERAL 597
SYSTEM DESCRIPTION 597
ADJUSTMENT 599
IGNITION TIMING 599
TROUBLESHOOTING 603
IGNITION SYSTEM TESTING SEQUENCE 603
PROCEDURES 603
SPARK PLUGS603
SPARK PLUG CABLES 604
EMERGENCY ENGINE STOP SWITCH 604
ENGINE CUT-OFF SWITCH 605
IGNITION COILS 605
06 -IGNITION SYSTEM (600 ACE AND 1200 4-TEC) 611
GENERAL 611
SYSTEM DESCRIPTION 611
TROUBLESHOOTING 611
DIAGNOSTIC TIPS 611
IGNITION SYSTEM TESTING 611
PROCEDURES 612
IGNITION COILS 612
SPARK PLUGS615
EMERGENCY ENGINE STOP SWITCH 615
ENGINE CUT-OFF SWITCH 615
07- CHARGING SYSTEM (600 HO E-TEC) 619
GENERAL 619
SYSTEM DESCRIPTION 619
TROUBLESHOOTING 619
TROUBLESHOOTING GUIDELINES 619
PROCEDURES 620
BATIERY CHARGING FUSE 620
BATIERY CHARGING RELAY (Rl) 620
VOLTAGE REGULATOR/RECTIFIER 620
DC-DC CONVERTER 622
CAPACITOR 624
BATIERY 628
08- CHARGING SYSTEM (600 ACE AND 1200 4-TEC) 633
GENERAL 633
SYSTEM DESCRIPTION 633
INSPECTION 634
CHARGING SYSTEM OUTPUT 634
TROUBLESHOOTING 635
DIAGNOSTIC TIPS 635
PROCEDURES 635
VOLTAGE REGULATOR 635
BATIERY 638
IX
TABLE OF CONTENTS
07 ELECTRICAL SYSTEM (cont'dl
09- STARTING SYSTEM (600 HO E-TEC) 643
GENERAL 643
BASIC STARTING SYSTEM OPERATION 643
TROUBLESHOOTING 643
TROUBLESHOOTING TIPS 643
STARTING SYSTEM TESTING SEQUENCE 643
PROCEDURES 643
START/RER FUSE 643
ELECTRIC STARTER 643
STARTER SOLENOID 645
START/RER SWITCH 648
10- STARTING SYSTEM (600 ACE AND 1200 4-TEC) 651
GENERAL 651
BASIC STARTING SYSTEM OPERATION 651
TROUBLESHOOTING 651
DIAGNOSTIC TIPS 651
STARTING SYSTEM TESTING SEQUENCE 651
PROCEDURES 652
STARTER SOLENOID 652
START/RER SWITCH 655
11- DIGITALLY ENCODED SECURITY SYSTEM (DESS) 657
GENERAL 657
SYSTEM DESCRIPTION 657
PROCEDURES 657
DESS KEY {600 HO E-TEC AND 1200 4-TEC MODELS) 657
DESS KEY {600 ACE MODELS) 659
BEEPER 660
12- LIGHTS, GAUGE AND ACCESSORIES 661
GENERAL 661
TROUBLESHOOTING 661
DIAGNOSTIC TIPS 661
LIGHTING AND ACCESSORIES SYSTEM TESTING 661
ACCESSORY CIRCUIT TEST WITH BUDS 662
PROCEDURES 663
HEADLIGHTS 663
TAILLIGHT AND BRAKE LIGHT 666
GAUGE 667
REMOTE MODE AND SET BUTIONS {PREMIUM GAUGE) 674
SPEED SENSOR 675
FUEL LEVEL SENSOR678
HEATED THROTILE LEVER 678
HEATED HANDLEBAR GRIPS 680
PASSENGER HEATED GRIPS 686
12-VOLT POWER OUTLET 686
08 DRIVE SYSTEM AND BRAKE
X
01 – DRIVE BELT 689
GENERAL 689
APPLICATION CHART689
PROCEDURES 689
DRIVE BELT GUARD 689
DRIVE BELT 690
TABLE OF CONTENTS
08 DRIVE SYSTEM AND BRAKE (cont'd)
02- DRIVE PULLEY (eDRIVE) 693
GENERAL 695
TROUBLESHOOTING 695
PROCEDURES 695
DRIVE PULLEY 695
03 – DRIVE PULLEY (TRA Ill) 705
GENERAL 707
PROCEDURES 707
DRIVE PULLEY 707
04- DRIVE PULLEY (TRA IV) 719
GENERAL 721
PROCEDURES 721
DRIVE PULLEY 721
05- DRIVEN PULLEY AND COUNTERS HAFT (600 ACE) 735
GENERAL 738
ADJUSTMENT 738
DRIVEN PULLEY ALIGNMENT 738
PROCEDURES 739
DRIVEN PULLEY 739
COUNTERSHAFT 745
COUNTER SHAFT BEARING 746
COUNTERS HAFT BEARING SUPPORT 747
06- DRIVEN PULLEY AND COUNTERSHAFT (600 HO E-TEC AND 1200 4-TECl 749
GENERAL 752
PROCEDURES 752
DRIVEN PULLEY 752
COUNTERSHAFT 759
COUNTERSHAFT BEARING 759
COUNTERS HAFT BEARING SUPPORT 1600 HO E-TECI 761
COUNTERSHAFT BEARING SUPPORT (1200 4-TECI 762
07 -BRAKE 765
GENERAL 767
PROCEDURES 767
BRAKE PADS 767
CALIPER 769
BRAKE DISC 772
MASTER CYLINDER 772
BRAKE LEVER 774
BRAKE LIGHT SWITCH 774
08 – GEARBOX 777
GENERAL 780
ADJUSTMENT 780
GEARSHIFT LEVER 780
PROCEDURES 780
GEARSHIFT LEVER 780
REVERSE BEEPER SWITCH 781
GEARBOX 782
09- DRIVE AXLE 789
GENERAL 791
PROCEDURES 791
DRIVE AXLE 791
MAGNETIC CAP 792
XI
TABLE OF CONTENTS
08 DRIVE SYSTEM AND BRAKE (cont'd)
10- TRACK 793
PROCEDURES 793
TRACK 793
09 CHASSIS
XII
01 – FRONT SUSPENSION (LTS) 795
GENERAL 797
PROCEDURES 797
SHOCK ABSORBER COVERS797
SHOCK ABSORBERS 798
SPRINGS 799
SKI LEGS 800
SEALS 800
02- FRONT SUSPENSION (REV-XP) 803
GENERAL 805
ADJUSTMENT 805
SPRING PRELOAD 805
PROCEDURES 805
SHOCK ABSORBERS 805
COIL SPRINGS 806
UPPER SUSPENSION ARMS 807
UPPER BALL JOINTS 807
LOWER SUSPENSION ARMS 809
LOWER BALL JOINTS 810
SKI LEGS 811
STABILIZER BAR 811
03- REAR SUSPENSION (SC-5U) 813
GENERAL 816
PROCEDURES 816
SUSPENSION ASSEMBLY 816
REAR AXLE 817
REAR EXTENSION 819
SHOCK ABSORBERS 820
REAR SPRINGS 823
SLIDER SHOES 824
FRONT ARM 825
REAR ARM 826
PIVOT ARM 827
IDLER WHEELS AND SUPPORTS 828
STOPPER STRAPS 828
04- STEERING SYSTEM 829
GENERAL835
ADJUSTMENT 835
STEERING ALIGNMENT 835
PROCEDURES 836
SKI RUNNERS 836
SKIS 836
SKI HANDLES 837
SKI LEGS 838
HANDLEBAR GRIPS 838
HANDLEBAR 838
HANDLEBAR EXTENSION (FIXED) 839
HANDLEBAR EXTENSION (ADJUSTABLE) 840
TIE-RODS 841
09 CHASSIS (cont'd)
04 – STEERING SYSTEM (cont'd)
PROCEDURES (cont'd)
TABLE OF CONTENTS
STEERING COLUMN 842
05- BODY 847
GENERAL 847
VEHICLE CLEANING 847
BODY PARTS REPAIR 847
PROCEDURES 848
DECALS 848
SIDE PANELS 848
HOOD 852
FRONT BUMPER 852
FRONT BOTIOM PAN 853
WINDSHIELD 855
GAUGE SUPPORT 856
CONSOLE 856
OPERATOR SEAT 857
PASSENGER SEAT 11 + 1) 858
REAR BUMPER 859
STORAGE COMPARTMENT 859
06 – FRAME 863
GENERAL 868
PROCEDURES 868
RIVETS 868
FRAME 869
REAR FRAME MEMBER 869
FRONT FRAME MEMBER 870
FRONT SUSPENSION MODULE 873
ENGINE MODULE 877
10 TECHNICAL SPECIFICATIONS
01- EXPEDITION (600 HO E-TEC) 879
02- EXPEDITION (1200 4-TEC) 883
03- SKANDIC WT (600 HO E-TEC) 889
04- SKANDIC WT (600 ACE)893
11 WIRING DIAGRAM
01 – WIRING DIAGRAMS 899
GENERAL 899
WIRING DIAGRAM LOCATION 899
WIRE COLOR CODES 899
02- CONNECTOR INFORMATION 901
GENERAL 901
DEUTSCH CONNECTOR 901
PACKARD CONNECTOR (GAUGE) 902
AMP MULTILOCK CONNECTOR 903
AMP CONNECTOR IS-CIRCUIT) 904
AMP CONNECTOR 904
MOL EX CONNECTOR906
KOSTAL CONNECTOR IECMI909
BATIERY CABLE TERMINAL 912
PLEASE NOTE:
This is the SAME exact manual used by your dealers to fix your vehicle.
The same can be yours in the next 2-3 mins as you will be directed to the download page immediately after paying for the manual.
Any queries / doubts regarding your purchase, please feel free to contact [email protected]