2009 Mercedes benz M class Ml500 Operators Manual
FILE DETAILS:
FILE TYPE:PDF
MANUAL LANGUAGE:ENGLISH
DOWNLOADABLE:YES
PAGES:585
DESCRIPTION:
This Operator's Manual contains a great deal of useful information. We urge you to read it carefully and familiarize yourself with the vehicle before driving. For your own safety and longer service life of the vehicle, we urge you to follow the instructions and warnings contained in this manual. Ignoring them could result in damage to the vehicle or personal injury to you or others. Vehicle damage caused by failure to follow instructions is not covered by the Mercedes-Benz Limited Warranty.
Your vehicle may have some or all of the equipment described in this manual. Therefore, you may find explanations for optional equipment not installed in your vehicle. If you have any questions about the operation of any equipment, your authorized Mercedes-Benz Light Truck Center will be glad to demonstrate the proper procedures. We continuously strive to improve our product, and ask for your understanding that we reserve the right to make changes in design and equipment.
Therefore, information, illustrations and descriptions in this Operator's Manual might differ from your vehicle. Optional equipment is also described in this manual, including operating instructions wherever necessary. Since they are special-order items, the descriptions and illustrations herein may vary slightly from the actual equipment of your vehicle.
If there are any equipment details that are not shown or described in this Operator's Manual, your authorized Mercedes-Benz Light Truck Center will be glad to inform you of correct care and operating procedures. The Operator's Manual and Maintenance Booklet are important documents and should be kept with the vehicle.
TABLE OF CONTENTS:
2009 Mercedes benz M class Ml500 Operators Manual
Introduction 9
Product information 9
Operator's Manual 10
Service and warranty information 10
Important notice for California
retail buyers and lessees of
Mercedes-Benz automobiles 11
Maintenance 12
Roadside Assistance 12
Change of address or ownership 13
Operating your vehicle
outside the USA or Canada 13
Where to find it 15
Symbols 16
Operating safety 17
Proper use of the vehicle 17
Problems with your vehicle 18
Reporting safety defects 19
Reporting safety defects 19
Vehicle data recording 20
Information regarding electronic
recording devices 20
At a glance 21
Exterior view 22
Cockpit 24
Instrument cluster 26
Instrument cluster 28
Multifunction steering wheel 30
Center console 31
Upper part 31
Lower part 32
Overhead control panel 33
Storage compartments 34
Door control panel 36
Getting started 37
Unlocking 38
Unlocking with the SmartKey 38
Unlocking with KEYLESS-GO* 39
Starter switch positions 39
Adjusting 43
Seats 43
Steering wheel 46
Mirrors 49
Driving 51
Fastening the seat belts 51
Starting the engine 54
Parking brake 57
Driving off 58
Switching on headlamps 59
Turn signals 60
Windshield wipers 60
Rear window wiper/washer 62
Problems while driving 63
Parking and locking 65
Parking brake 65
Switching off headlamps 66
Turning off the engine 66
Releasing seat belts 67
Locking 68
Safety and Security 69
Occupant safety 70
Air bags 71
Seat belts 77
Active head restraint 80
Rear head restraints 81
Children in the vehicle 82
Blocking of rear door
window operation 93
Panic alarm 95
Activating 95
Deactivating 95
Driving safety systems 96
ABS 96
BAS 97
ESP® 98
EBP 101
4-ETS 102
Anti-theft systems 103
Immobilizer 103
Anti-theft alarm system 103
Controls in detail 107
Locking and unlocking 108
SmartKey 108
SmartKey with KEYLESS-GO* 112
Opening the doors
from the inside 118
Opening the tailgate 119
Closing the tailgate 121
Automatic central locking 126
Locking and unlocking
from the inside 126
Seats 128
Front seat active head restraints 128
Rear seat head restraints 128
Lumbar support 130
Multicontour seat* 130
Seat heating* 131
Seat ventilation* 132
Memory function* 134
Storing positions into memory 135
Recalling positions from memory 135
Lighting 136
Exterior lamp switch 136
Combination switch 140
Corner-illuminating
front fog lamps* 140
Hazard warning flasher 142
Interior lighting 142
Door entry lamps 144
Cargo compartment lamp 144
Instrument cluster 145
Adjusting instrument
cluster illumination 145
Resetting trip odometer 146
Tachometer 146
Outside temperature indicator 146
Control system 147
Multifunction display 147
Multifunction steering wheel 148
Menus 150
Standard display menu 154
AMG menu 156
Off-road mode menu 159
Audio menu 159
Navi* menu 161
AIRMATIC*/Compass menu 162
DISTRONIC* menu 162
Vehicle status message
memory menu 163
Settings menu 164
Vehicle configuration 178
Trip computer menu 180
Tel menu* 182
Automatic transmission 185
Gear selector lever 185
Shifting procedure 188
Transmission positions 189
Driving tips 191
Gear ranges 193
Steering wheel gearshift control 194
Shift program (ML 63 AMG only) 195
Emergency operation
(Limp-Home Mode) 198
Transfer case 199
Good visibility 200
Headlamp cleaning system* 200
Rear view mirrors 200
Power folding exterior
rear view mirrors* 202
Sun visors 203
Rear window defroster 205
Climate control 206
Deactivating the
climate control system 210
Operating the climate control
system in automatic mode 210
Setting the temperature 211
Adjusting air distribution 212
Adjusting air volume 212
Front defroster 213
Air recirculation mode 214
Air conditioning 216
Residual heat and ventilation 216
Rear climate control* 217
3-zone automatic climate control* 220
Deactivating the
automatic climate
control system 224
Operating the automatic
climate control system in
automatic mode 225
Setting the temperature 225
Adjusting air distribution 226
Adjusting air volume 227
Front defroster 227
Maximum cooling MAX COOL 228
Air recirculation mode 228
Air conditioning 230
Using driver-side settings
for all temperature zones 231
Residual heat and ventilation 232
Rear automatic climate control 232
Power windows 236
Opening and closing 236
Synchronizing the door windows 238
Summer opening feature 239
Convenience closing feature 239
Power tilt/sliding sunroof* 241
Opening and closing 241
Synchronizing 244
Driving systems 245
Cruise control 245
Distronic* 250
Distance warning function* 263
Downhill Speed Regulation
(DSR) 264
Off-road driving program 268
Air suspension package* 269
Adaptive Damping System
(ADS)* 269
Vehicle level control* 270
Parktronic system* 274
Rear view camera* 279
Loading 281
Carriers* 281
Loading instructions 281
Cargo tie-down rings 283
Hooks 284
Expanding cargo compartment 284
Cargo compartment cover blind 286
Partition net* 287
Cargo management system* 290
Useful features 294
Storage compartments 294
Parcel nets 297
Cup holders 298
Ashtrays* 300
Cigarette lighter* 301
Power outlets 302
Floormats* 303
Heated steering wheel* 304
Telephone* 305
Tele Aid* 308
Garage door opener* 316
Compass 321
Infrared reflecting windshield* 322
Operation 323
The first 1000 miles (1500 km) 324
Driving instructions 325
Drive sensibly – save fuel 325
Drinking and driving 325
Pedals 325
Power assistance 326
Brakes 326
Driving off 329
Parking 329
Tires 329
Hydroplaning 330
Tire traction 330
Tire speed rating 331
Winter driving instructions 332
Standing water 333
Off-road driving 333
Trailer towing 342
Passenger compartment 348
Driving abroad 348
Control and operation
of radio transmitters 348
Catalytic converter
(gasoline engine) 349
Oxidation catalyst
(diesel engine) 349
Emission control 350
Coolant temperature 350
At the gas station 352
Refueling 352
Check regularly and
before a long trip 354
Engine compartment 356
Hood 356
Engine oil 358
Transmission fluid level 362
Coolant level 362
Windshield/rear window
washer system and
headlamp cleaning system* 363
Tires and wheels 365
Important guidelines 365
Tire care and maintenance 366
Direction of rotation 368
Loading the vehicle 368
Recommended tire
inflation pressure 374
Checking tire inflation pressure 375
Tire labeling 385
Load identification 389
DOT, Tire Identification Number
(TIN) 389
Maximum tire load 391
Maximum tire inflation pressure 391
Uniform Tire Quality Grading
Standards (U S vehicles) 392
Tire ply material 394
Tire and loading terminology 394
Rotating tires 397
Winter driving 399
Winter tires 399
Block heater (Canada only) 400
Snow chains 400
Maintenance 401
Maintenance service indicator
message 401
Calling up the maintenance
service indicator display 403
Resetting the maintenance
service indicator 403
Vehicle care 404
Cleaning and care of the vehicle 404
Practical hints 413
What to do if … 414
Lamps in instrument cluster 414
Lamp in center console 426
Vehicle status messages in the
multifunction display 428
Where will I find ? 469
First aid kit 469
Vehicle tool kit 469
Minispare wheel
(except ML 63 AMG) 473
Collapsible tire
(ML 63 AMG only) 474
Unlocking/locking in an emergency 475
Unlocking the vehicle 475
Locking the vehicle 476
Unlocking and opening
the tailgate 476
Fuel filler flap 477
Opening/closing in an emergency 478
Power tilt/sliding sunroof* 478
Resetting activated head restraints 479
Replacing SmartKey batteries 480
Replacing bulbs 482
Bulbs 482
Replacing bulbs for front lamps 485
Replacing bulbs for rear lamps 490
Adjusting headlamp aim 492
Replacing wiper blades 494
Front wiper blades 494
Rear wiper blade 495
Flat tire 497
Preparing the vehicle 497
Mounting the spare wheel 498
Bleeding the fuel system
(diesel engine only) 506
Battery 507
Disconnecting, removing,
reinstalling and
reconnecting the battery 509
Charging the battery 514
Jump starting 515
Towing the vehicle 518
Installing towing eye bolt 520
Stranded vehicle 521
Fuses 522
Fuse box in
engine compartment 523
Fuse box in cargo compartment 523
Fuse box in passenger
compartment 524
Emergency engine shut-down 525
Technical data 527
Parts service 528
Warranty coverage 529
Loss of Service and Warranty
Information Booklet 529
Identification labels 530
Layout of poly-V-belt drive 532
ML 350 532
ML 320 CDI 532
ML 500 532
ML 63 AMG 533
Engine 534
Rims and tires 536
Same size tires 537
Spare wheel 538
Electrical system 540
Main Dimensions 541
Weights 542
Fuels, coolants, lubricants 543
Capacities 543
Engine oils 546
Engine oil additives 546
Air conditioning refrigerant 546
Brake fluid 546
Premium unleaded gasoline
(gasoline engine) 547
Gasoline additives
(gasoline engine) 547
Fuel requirements 548
Coolants 549
Windshield washer and
headlamp cleaning* system 551
Index 553
SCREENSHOT OF THE MANUAL: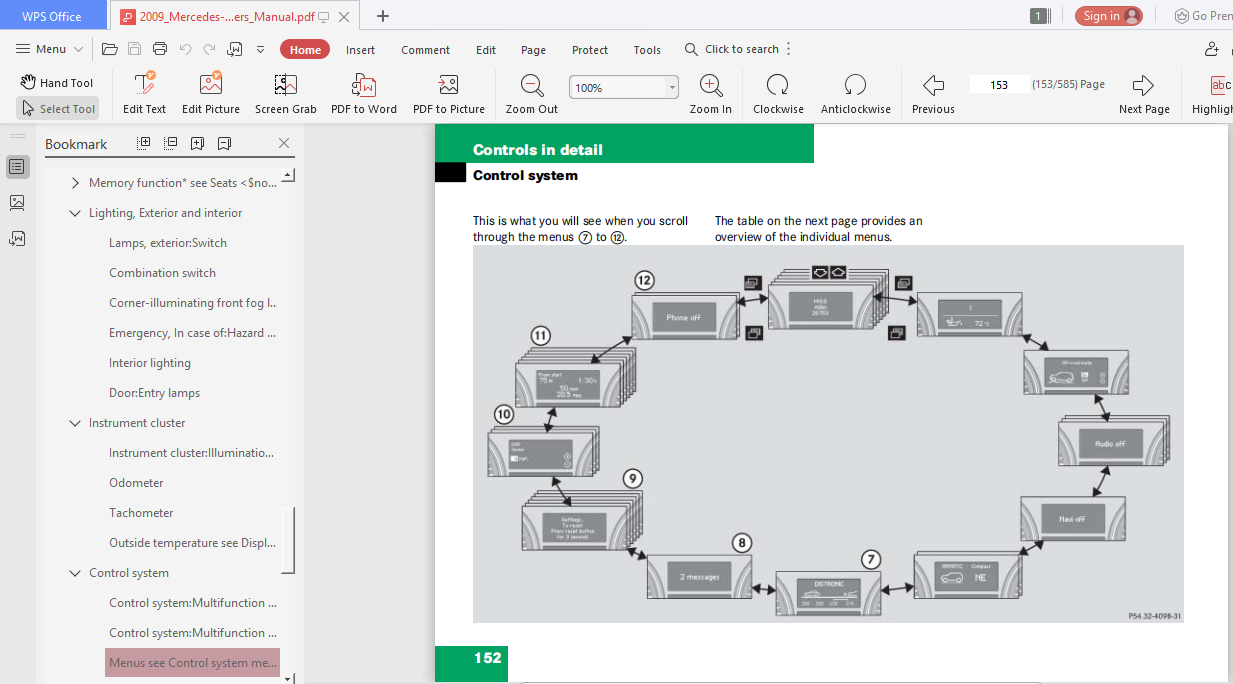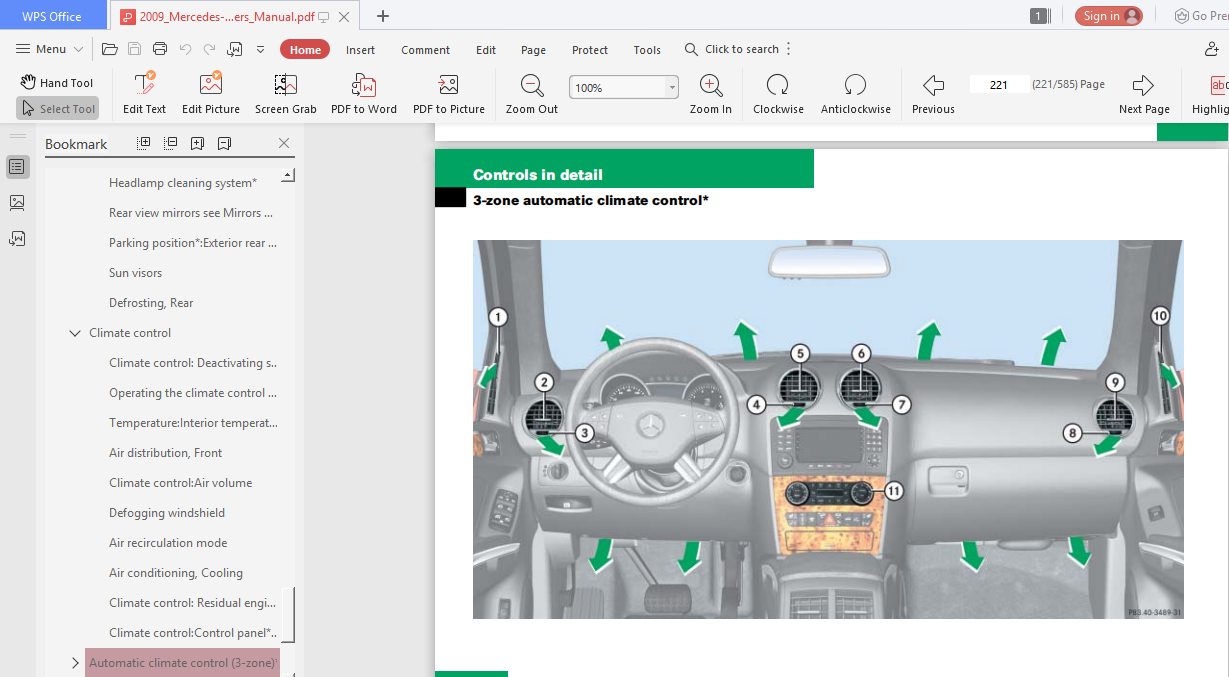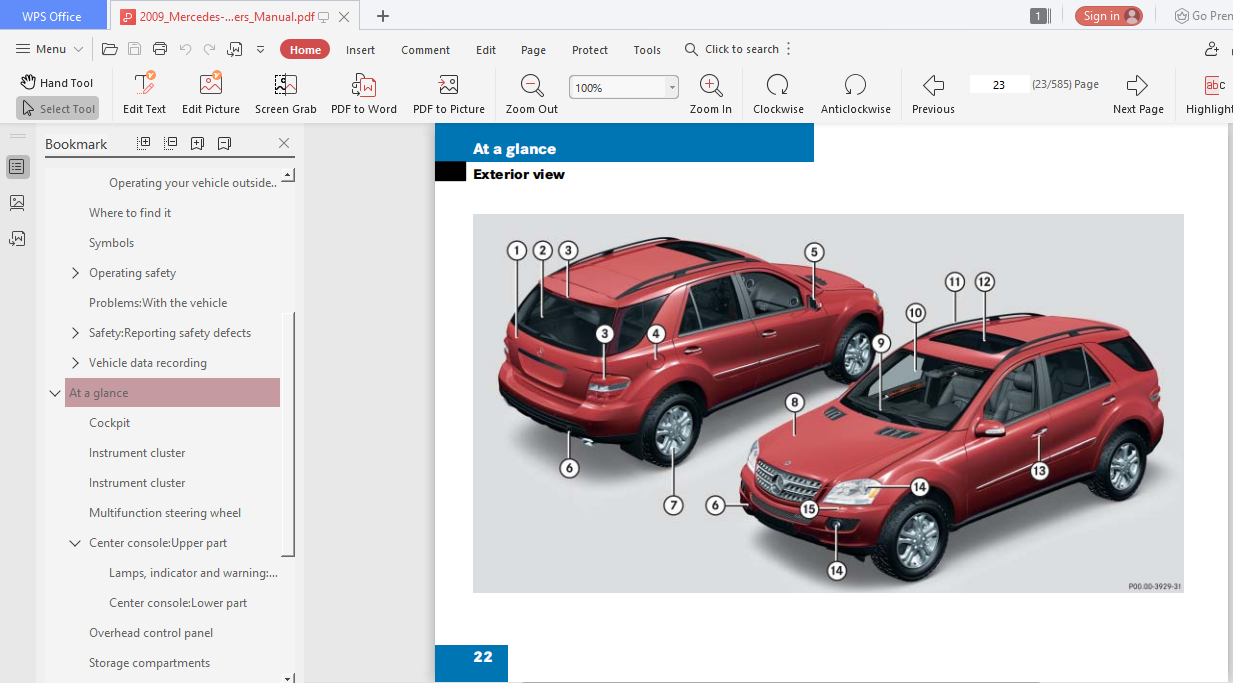 VIDEO PREVIEW:
PLEASE NOTE: 
⦁ This is the same manual used by the dealers to diagnose and troubleshoot your vehicle
⦁ You will be directed to the download page as soon as the purchase is completed. The whole payment and downloading process will take anywhere between 2-5 minutes
⦁ Need any other service / repair / parts manual, please feel free to contact [email protected] . We still have 50,000 manuals unlisted