2007 Yamaha V150 Hp Outboard Service Repair Manual
FILE DETAILS:
LANGUAGE:ENGLISH
PAGES:353
DOWNLOADABLE:YES
FILE TYPE:PDF
VIDEO PREVIEW OF THE MANUAL:
IMAGES PREVIEW OF THE MANUAL: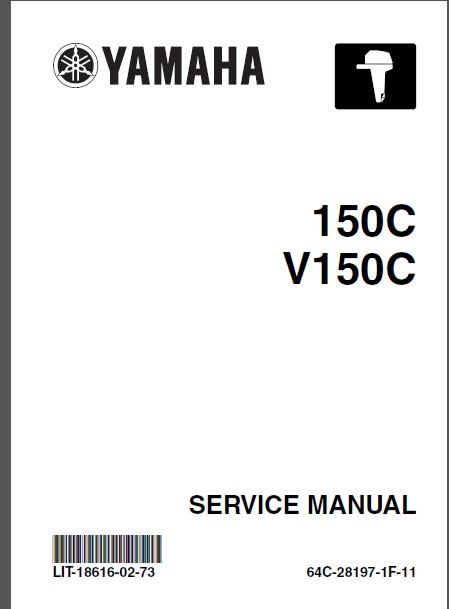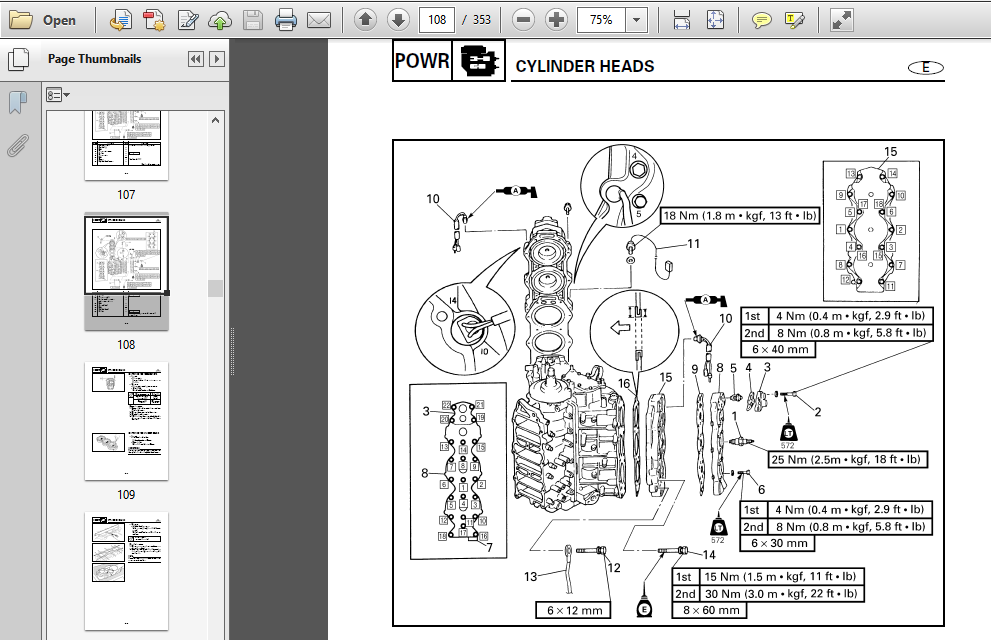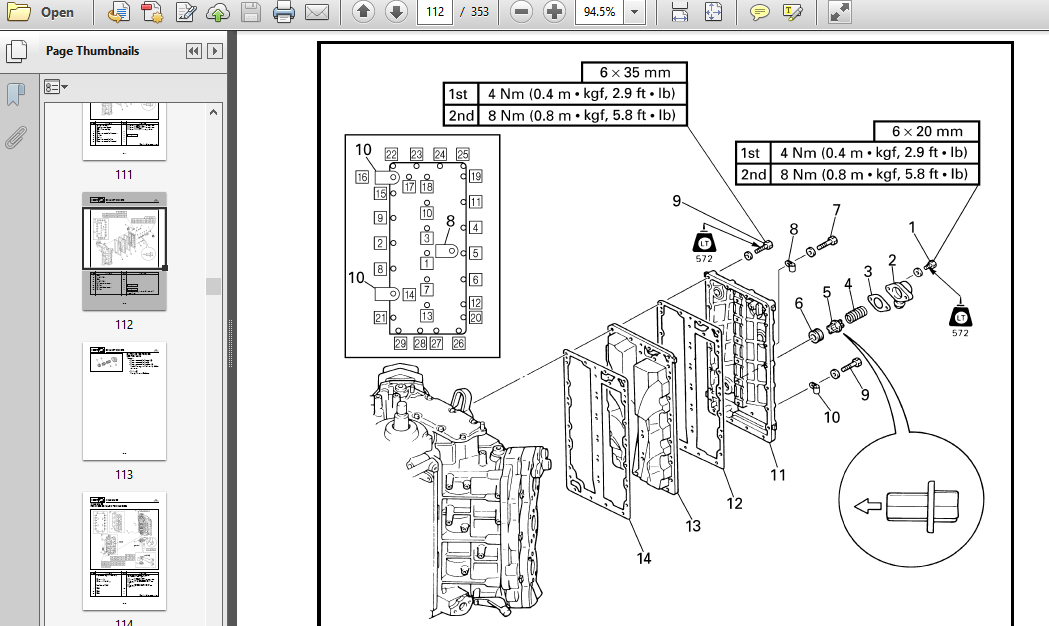 DESCRIPTION:
2007 Yamaha V150 Hp Outboard Service Repair Manual
This manual has been prepared by Yamaha primarily for use by Yamaha dealers and their trained mechanics when performing maintenance procedures and repairs to Yamaha equipment. It has been written to suit the needs of persons who have a basic understanding of the mechanical and electrical concepts and procedures inherent in the work, for without such knowledge attempted repairs or service to the equipment could render it unsafe or unfit for use.
Because Yamaha has a policy of continuously improving its products, models may differ in detail from the descriptions and illustrations given in this publication. Use only the latest edition of this manual. Authorized Yamaha dealers are notified periodically of modifications and significant changes in specifications and procedures, and these are incorporated in successive editions of this manual.
MANUAL FORMAT:
All of the procedures in this manual are organized in a sequential, step-by-step format. The information has been compiled to provide the mechanic with an easy to read, handy reference
that contains comprehensive explanations of all disassembly, repair, assembly, and inspection operations. For instance, the condition of a faulty component will precede an arrow symbol and the course of action required will follow the symbol.
 Bearings
Pitting/scratches → Replace.
To assist you in finding your way through this manual, the section title and major heading is given at the top of every page.
TABLE OF CONTENTS:
2007 Yamaha V150 Hp Outboard Service Repair Manual
IDENTIFICATION 1-1
SERIAL NUMBER 1-1
STARTING SERIAL NUMBERS 1-1
SAFETY WHILE WORKING 1-2
FIRE PREVENTION 1-2
VENTILATION 1-2
SELF-PROTECTION 1-2
OILS, GREASES AND SEALING FLUIDS 1-2
GOOD WORKING PRACTICES 1-3
DISASSEMBLY AND ASSEMBLY 1-4
SPECIAL TOOLS 1-5
MEASURING 1-5
REMOVING AND INSTALLING 1-7
GENERAL SPECIFICATIONS 2-1
MAINTENANCE SPECIFICATIONS 2-3
POWER UNIT 2-3
LOWER UNIT 2-5
ELECTRICAL 2-5
DIMENSIONS 2-8
TIGHTENING TORQUES 2-10
SPECIFIED TORQUES 2-10
GENERAL TORQUES 2-12
PERIODIC INSPECTIONS AND ADJUSTMENTS
MAINTENANCE INTERVAL CHART 3-1
TOP COWLING 3-2
INSPECTING THE TOP COWLING FIT 3-2
FUEL SYSTEM 3-2
INSPECTING THE FUEL LINE 3-2
INSPECTING THE FUEL FILTER 3-3
CONTROL SYSTEM 3-3
ADJUSTING THE IGNITION TIMING 3-3
SYNCHRONIZING THE CARBURETOR 3-6
ADJUSTING THE ENGINE IDLING SPEED 3-7
ADJUSTING THE CARBURETOR PICKUP TIMING 3-9
ADJUSTING THE REMOTE CONTROL SHIFT CABLE 3-11
ADJUSTING THE REMOTE CONTROL THROTTLE CABLE 3-11
COOLING SYSTEM 3-12
INSPECTING THE COOLING WATER DISCHARGE 3-12
OIL INJECTION SYSTEM 3-12
SYNCHRONIZING THE OIL PUMP 3-12
AIR BLEEDING THE OIL INJECTION SYSTEM 3-13
MEASURING THE OIL PUMP DISCHARGE 3-14
POWER TRIM AND TILT SYSTEM 3-16
INSPECTING THE POWER TRIM AND TILT FLUID LEVEL 3-16
LOWER UNIT 3-17
INSPECTING THE GEAR OIL LEVEL 3-17
CHANGING AND INSPECTING THE GEAR OIL 3-17
INSPECTING THE LOWER UNIT (FOR AIR LEAKS) 3-19
GENERAL 3-19
INSPECTING THE ANODES 3-19
INSPECTING THE BATTERY 3-20
INSPECTING THE SPARK PLUGS 3-21
LUBRICATION POINTS 3-23
FUEL JOINT AND FUEL FILTER 4-1
REMOVING/INSTALLING THE FUEL JOINT AND FUEL FILTER
(FOR PRE-MIX MODELS, EXCEPT FOR 225DET) 4-1
REMOVING/INSTALLING THE FUEL JOINT AND FUEL FILTER
(FOR OIL INJECTION MODELS, AND 225DET) 4-3
INSPECTING THE CHECK VALVE 4-5
FUEL PUMP 4-6
REMOVING/INSTALLING THE FUEL PUMP 4-6
DISASSEMBLING/ASSEMBLING THE FUEL PUMP 4-7
INSPECTING THE FUEL PUMPS 4-9
OIL TANK 4-10
REMOVING/INSTALLING THE OIL TANK 4-10
CARBURETOR 4-12
REMOVING/INSTALLING THE CARBURETOR 4-12
DISASSEMBLING/ASSEMBLING THE CARBURETOR 4-14
DISASSEMBLING THE CARBURETOR 4-17
INSPECTING THE CARBURETOR 4-17
ASSEMBLING THE CARBURETOR 4-18
OIL PUMP 4-19
REMOVING/INSTALLING THE OIL PUMP
(FOR 150G, 175F, S200F, 200G, 225D/
V150TR, P175TR, S200TR P200TR MODELS) 4-19
REMOVING/INSTALLING THE OIL PUMP
(EXCEPT FOR 150G, 175F, S200F, 200G, 225D/
V150TR, P175TR, S200TR, P200TR MODELS) 4-21
INSPECTING THE CHECK VALVE 4-23FLYWHEEL MAGNET ASSEMBLY
5-1
REMOVING/INSTALLING THE FLYWHEEL MAGNET ASSEMBLY 5-1
REMOVING THE FLYWHEEL MAGNET ASSEMBLY 5-2
INSTALLING THE FLYWHEEL MAGNET ASSEMBLY 5-3
POWER UNIT
5-4
DISCONNECTING/CONNECTING THE LEADS 5-4
DISCONNECTING/CONNECTING THE HOSES 5-5
REMOVING/INSTALLING THE POWER UNIT 5-6
STATOR ASSEMBLY
5-8
REMOVING/INSTALLING THE STATOR ASSEMBLY 5-8
CDI UNIT
5-10
REMOVING/INSTALLING THE CDI UNIT ASSEMBLY 5-10
REMOVING/INSTALLING THE CDI UNIT 5-12
RECTIFIER/REGULATOR
5-14
REMOVING/INSTALLING THE RECTIFIER/REGULATOR 5-14
RELAY ASSEMBLY AND STARTER MOTOR
5-16
REMOVING/INSTALLING THE RELAY ASSEMBLY AND
STARTER MOTOR 5-16
CONTROL UNIT
5-18
REMOVING/INSTALLING THE CONTROL UNIT 5-18
INSTALLING THE CONTROL UNIT 5-20
INTAKE MANIFOLD
5-21
REMOVING/INSTALLING THE INTAKE MANIFOLD
(FOR 150G, 175F, S200F, 200G, 225D/
V150TR, P175TR, S200TR, P200TR MODELS) 5-21
REMOVING/INSTALLING THE INATAKE MANIFOLD
(EXCEPT FOR 150G, 175F, S200F, 200G, 225D/
V150TR, P175TR, S200TR, P200TR MODELS) 5-23
LOWER UNIT (REGULAR ROTATION MODELS) 6-1
REMOVING/INSTALLING THE LOWER UNIT 6-1
REMOVING THE PROPELLER 6-3
INSPECTING THE PROPELLER 6-3
INSTALLING THE PROPELLER 6-3
WATER PUMP (REGULAR ROTATION MODELS) 6-4
REMOVING/INSTALLING THE WATER PUMP 6-4
INSPECTING THE IMPELLER HOUSING 6-6
INSPECTING THE IMPELLER AND IMPELLER HOUSING CUP 6-6
INSPECTING THE WOODRUFF KEY 6-6
INSTALLING THE IMPELLER AND IMPELLER HOUSING 6-6
SHIFT ROD ASSEMBLY (REGULAR ROTATION MODELS) 6-7
REMOVING/INSTALLING THE SHIFT ROD ASSEMBLY 6-7
REMOVING THE SHIFT ROD ASSEMBLY 6-8
PROPELLER SHAFT HOUSING ASSEMBLY
(REGULAR ROTATION MODELS) 6-9
REMOVING/INSTALLING THE PROPELLER SHAFT HOUSING
ASSEMBLY 6-9
DISASSEMBLING/ASSEMBLING THE PROPELLER SHAFT
HOUSING 6-11
DISASSEMBLING/ASSEMBLING THE PROPELLER SHAFT
ASSEMBLY 6-12
REMOVING THE PROPELLER SHAFT HOUSING ASSEMBLY 6-13
DISASSEMBLING THE PROPELLER SHAFT HOUSING 6-13
INSPECTING THE REVERSE GEAR 6-14
INSPECTING THE BEARING 6-14
INSPECTING THE PROPELLER SHAFT HOUSING 6-14
INSPECTING THE DOG CLUTCH 6-15
INSPECTING THE PROPELLER SHAFT 6-15
ASSEMBLING THE PROPELLER SHAFT HOUSING 6-15
INSTALLING THE PROPELLER SHAFT HOUSING ASSEMBLY 6-16
BOTTOM COWLING 7-1
REMOVING/INSTALLING THE BOTTOM COWLING 7-1
DISASSEMBLING/ASSEMBLING THE BOTTOM COWLING
(FOR PRE-MIX MODELS, EXCEPT FOR 225DET) 7-3
DISASSEMBLING/ASSEMBLING THE BOTTOM COWLING
(FOR OIL INJECTION MODELS, AND 225DET) 7-5
SHIFT ROD ASSEMBLY 7-8
DISASSEMBLING/ASSEMBLING THE SHIFT ROD ASSEMBLY 7-8
UPPER CASE ASSEMBLY 7-10
REMOVING/INSTALLING THE UPPER CASE ASSEMBLY 7-10
DISASSEMBLING/ASSEMBLING THE UPPER CASE ASSEMBLY 7-11
EXHAUST MANIFOLD ASSEMBLY 7-14
DISASSEMBLING/ASSEMBLING THE EXHAUST MANIFOLD
ASSEMBLY 7-14
CLAMP BRACKETS 7-16
REMOVING/INSTALLING THE CLAMP BRACKETS 7-16
STEERING ARM 7-18
REMOVING/INSTALLING THE STEERING ARM 7-18
SWIVEL BRACKET ASSEMBLY 7-19
DISASSEMBLING/ASSEMBLING THE SWIVEL BRACKET
ASSEMBLY 7-19
POWER TRIM AND TILT UNIT 7-21
REMOVING/INSTALLING THE POWER TRIM AND TILT UNIT 7-21
REMOVING THE POWER TRIM AND TILT UNIT 7-22
BLEEDING THE POWER TRIM AND TILT UNIT 7-22
ELECTRICAL COMPONENTS
(OIL INJECTION AND 225DET MODELS) 8-1
(Port view) 8-1
(Starboard view) 8-2
(Aft view) 8-3
ELECTRICAL COMPONENTS
(PRE-MIX EXCEPT FOR 225DET MODELS) 8-4
(Port view) 8-4
(Starboard view) 8-5
(Aft view) 8-6
ELECTRICAL COMPONENTS ANALYSIS 8-7
DIGITAL CIRCUIT TESTER 8-7
MEASURING THE PEAK VOLTAGE 8-7
PEAK VOLTAGE ADAPTOR 8-7
MEASURING A LOW RESISTANCE 8-8
IGNITION SYSTEM (OIL INJECTION AND 225DET MODELS) 8-9
IGNITION SYSTEM (PRE-MIX EXCEPT FOR 225DET MODELS) 8-10
INSPECTING THE IGNITION SPARK 8-11
MEASURING THE IGNITION SYSTEM PEAK VOLTAGE 8-12
INSPECTING THE SPARK PLUG CAPS 8-15
IGNITION CONTROL SYSTEM
(OIL INJECTION AND 225DET MODELS) 8-16
IGNITION CONTROL SYSTEM
(PRE-MIX EXCEPT FOR 225DET MODELS) 8-17
MEASURING THE CRANK POSITION SENSOR OUTPUT
PEAK VOLTAGE 8-18
MEASURING THE ENGINE COOLING WATER TEMPERATURE
SENSOR RESISTANCE 8-18
INSPECTING THE THERMO SWITCH CONTINUITY 8-19
INSPECTING THE OIL LEVEL SENSOR CONTINUITY 8-19
INSPECTING THE EMERGENCY SWITCH 8-20
TROUBLE ANALYSIS 9-1
TROUBLE ANALYSIS CHART 9-1
SELF-DIAGNOSIS 9-4
DIAGNOSIS CODE INDICATION 9-4
DIAGNOSIS THE ELECTRONIC CONTROL SYSTEM 9-4
PLEASE NOTE:
This is the same manual used by the DEALERSHIPS to SERVICE your vehicle.
The manual can be all yours – Once payment is complete, you will be taken to the download page from where you can download the manual. All in 2-5 minutes time!!
Need any other service / repair / parts manual, please feel free to contact us at heydownloadss @gmail.com . We may surprise you with a nice offer