2006 Bobcat A300 Turbo A300 Turbo High Flow Skid Steer Loader Service Manual – PDF DOWNLOAD
DESCRIPTION:
2006 Bobcat A300 Turbo A300 Turbo High Flow Skid Steer Loader Service Manual – PDF DOWNLOAD
S/N 526411001 & Above
S/N 526511001 & Above
FOREWORD:
This manual is for the Bobcat loader mechanic. It provides necessary servicing and adjustment procedures for the Bobcat loader and its component parts and systems. Refer to the Operation & Maintenance Manual for operating instructions, starting procedure, daily checks, etc.
SAFETY INSTRUCTIONS (CONT'D)
Fire Prevention:
The machine and attachments have components that are at high temperature under normal operating conditions. The primary source of high temperatures is the engine and exhaust system. The electrical system, if damaged or incorrectly maintained, can be a source of arcs or sparks. Flammable debris (leaves, straw, etc.) must be removed regularly. If flammable debris is allowed to accumulate, it will increase fire hazard. Clean often to avoid this accumulation. Flammable debris in the engine compartment is a potential hazard. The spark arrestor muffler is designed to control the emission of hot particles from the engine and exhaust system, but the muffler and the exhaust gases are still hot.
• Do not use the machine where exhaust, arcs, sparks or hot components can contact flammable material, explosive dust or gases.
• The operator cab, engine compartment, and engine cooling system must be inspected every day and cleaned if necessary to prevent fire hazard and overheating.
• Check all electrical wiring and connections for damage. Keep the battery terminals clean and tight. Repair or replace any damaged part.
• Check fuel and hydraulic tubes, hoses and fittings for damage and leakage. Never use open flame or bare skin to check for leaks. Tighten or replace any parts that show leakage. Always clean fluid spills. Do not use gasoline or diesel fuel for cleaning parts. Use commercial nonflammable solvents.
• Do not use ether or starting fluids on any engine which has glow plugs. These starting aids can cause explosion and injure you or bystanders.
• Always clean the machine, disconnect the battery, and disconnect the wiring from the controllers before welding. Cover rubber hoses, battery and all other flammable parts. Keep a fire extinguisher near the machine when welding. Have good ventilation when grinding or welding painted parts. Wear a dust mask when grinding painted parts. Toxic dust or gas can be produced.
INDEX:
AIR CLEANER 70-01
AIR CLEANER SERVICE 10-01
AIR CONDITIONING SERVICE 80-01
AIR CONDITIONING SYSTEM FLOW 80-01
ALTERNATOR 60-01
AUXILIARY PRESSURE RELEASE
(ACCUMULATOR) 20-01
AWS CONTROLLER 60-01
BASIC TROUBLESHOOTING 80-01
BATTERY 60-01
BOBCAT 2001 CONTROLLER 60-01
BOB-TACH 10-01, 50-01
BRAKE 40-01
BRAKE (TWO-SPEED) 40-01
BUCKET POSITION VALVE 20-01
CALIBRATION 60-01
CHAINCASE 40-01
CHARGE PRESSURE 30-01
COOLING FAN 70-01
COMPONENTS 80-01
COMPRESSOR 80-01
CONDENSER 80-01
CONTROL PANEL 50-01
CONTROL 50-01
CONVERSIONS SPEC-01
CYLINDER (LIFT) 20-01
CYLINDER (POWER BOB-TACH) 20-01
CYLINDER (REAR) 20-01
CYLINDER (TILT) 20-01
DIAGNOSTICS SERVICE CODES 60-01
DRIVE BELT 30-01
DRIVE COMPONENTS 40-01
ELECTRICAL/HYDRAULIC CONTROLS
REFERENCE 60-01
ELECTRICAL SYSTEM INFORMATION 60-01
ENGINE 70-01
ENGINE COMPONENTS AND TESTING 70-01
ENGINE COOLING SYSTEM 10-01
ENGINE LUBRICATION SYSTEM 10-01
ENGINE SPECIFICATIONS SPEC-01
ENGINE SPEED CONTROL 70-01
EVAPORATOR 80-01
EVAPORATOR/HEATER UNIT 80-01
EXPANSION VALVE 80-01
FAN GEARBOX 10-01
FINAL DRIVE TRANSMISSION (CHAINCASE) 10-01
FLYWHEEL AND HOUSING 70-01
FUEL SYSTEM 10-01
FUEL TANK 50-01
GENERAL AIR CONDITIONING
SERVICE GUIDELINES 80-01
HEATER COIL 80-01
HEATER/AC FAN 80-01
HEATER VALVE 80-01
HUB40-01
HYDRAULIC CONNECTION SPECS SPEC-01
HYDRAULIC CONTROL VALVE
(1 PIECE CASTING) 20-01
HYDRAULIC CONTROL VALVE
(2 PIECE CASTING) 20-01
HYDRAULIC FLUID RESERVOIR 20-01
HYDRAULIC/HYDROSTATIC FILTER 20-01
HYDRAULIC/HYDROSTATIC FLUID
SPECIFICATIONSSPEC-01
HYDRAULIC/HYDROSTATIC SYSTEM10-01
HYDRAULIC PUMP 20-01
HYDRAULIC PUMP (HI FLOW) 20-01
HYDRAULIC SYSTEM INFORMATION 20-01
HYDROSTATIC MOTOR 30-01
HYDROSTATIC PUMP 30-01
HYDROSTATIC SYSTEM INFORMATION 30-01
INSIDE ACESS PANEL50-01
INSTRUMENT PANEL60-01
LIFT ARMS50-01
LIFT ARM BY-PASS CONTROL VALVE 20-01
LIFT ARM SUPPORT DEVICE 10-01
LIFTING AND BLOCKING THE LOADER10-01
LIGHTS 60-01
LOADER SPECIFICATIONS SPEC-01
LOADER TORQUESPEC-01
LUBRICATING THE LOADER10-01
MAIN RELIEF VALVE20-01
MUFFLER70-01
OIL COOLER (SEAL TIGHT CONNECT) (STC)30-01
OPERATOR CAB 10-01, 50-01
OPERATOR SEAT (STANDARD)50-01
OPERATOR SEAT (SUSPENSION)50-01
POWER BOB-TACH (OPTION) 10-01, 50-01
POWER BOB-TACH BLOCK20-01
PRESSURE RELIEF VALVE 80-01
PRESSURE SWITCH80-01
RADIATOR 70-01
REAR AUXILIARY DIVERTER VALVE20-01
REAR DOOR 50-01
REAR GRILL 50-01
RECEIVER/DRIER80-01
RECONDITIONING THE ENGINE70-01
REGULAR MAINTENANCE80-01
REMOTE START 10-01
ALPHABETICAL INDEX (CONT'D)
SAFETY 80-01
SEAT BAR 50-01
SEAT BAR SENSOR60-01
SELECT VALVE20-01
SERVICE SCHEDULE 10-01
STARTER 60-01
STEERING BLOCK 40-01
STEERING SOLENOID60-01
SYSTEM CHARGING AND RECLAMATION 80-01
SYSTEM TROUBLESHOOTING CHART 80-01
TEMPERATURE/PRESSURE80-01
THERMOSTAT80-01
TIRE MAINTENANCE 10-01
TORQUE SPECIFICATIONS FOR BOLTS SPEC-01
TOWING THE LOADER10-01
TRACTION LOCK60-01
TRANSPORTING THE BOBCAT LOADER10-01
TROUBLESHOOTING70-01
TABLE OF CONTENTS:
2006 Bobcat A300 Turbo A300 Turbo High Flow Skid Steer Loader Service Manual – PDF DOWNLOAD
FOREWORD II
SAFETY INSTRUCTIONSV
SERIAL NUMBER LOCATIONIX
DELIVERY REPORT X
BOBCAT LOADER IDENTIFICATION XI
SAFETY AND MAINTENANCE 10-01
HYDRAULIC SYSTEM20-01
HYDROSTATIC SYSTEM 30-01
DRIVE SYSTEM 40-01
MAIN FRAME 50-01
ELECTRICAL SYSTEM & ANALYSIS60-01
ENGINE SERVICE70-01
HEATING, VENTILATION, AIR CONDITIONING 80-01
SPECIFICATIONSSPEC-01
IMAGES PREVIEW OF THE MANUAL: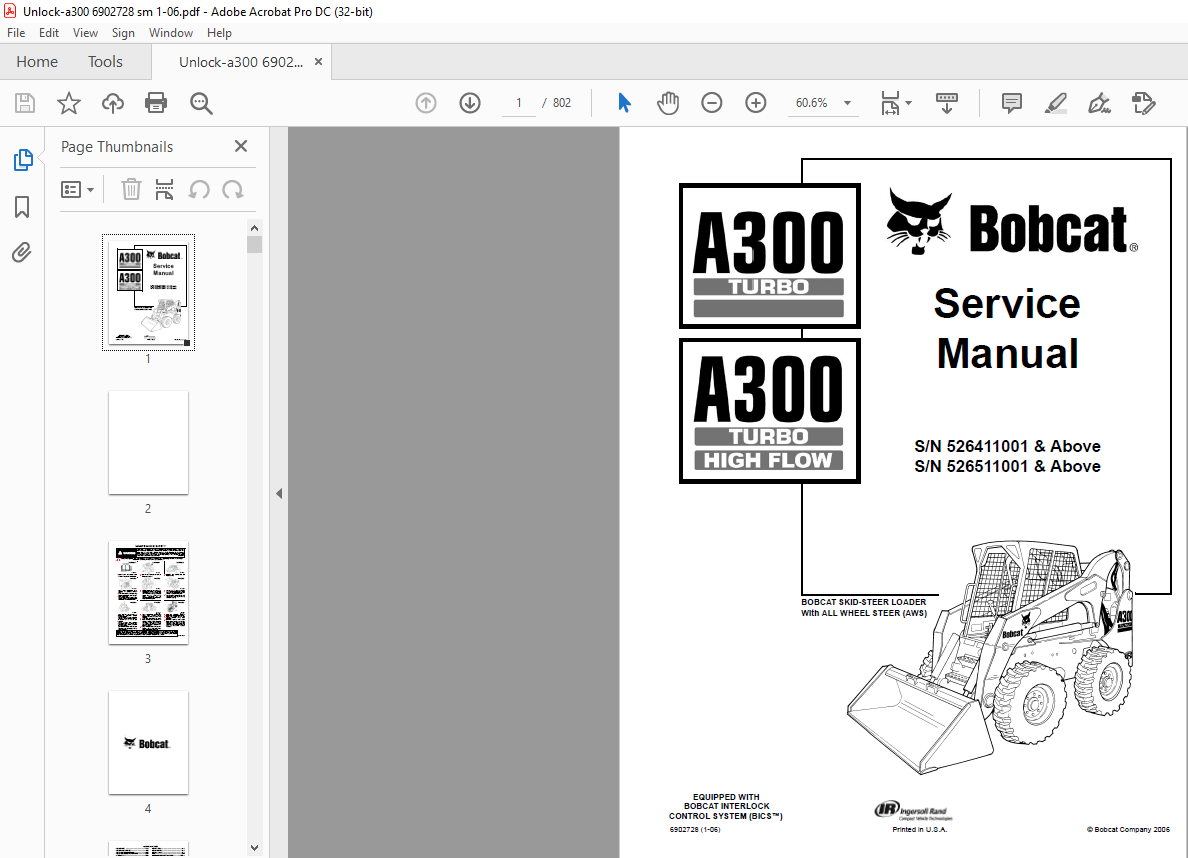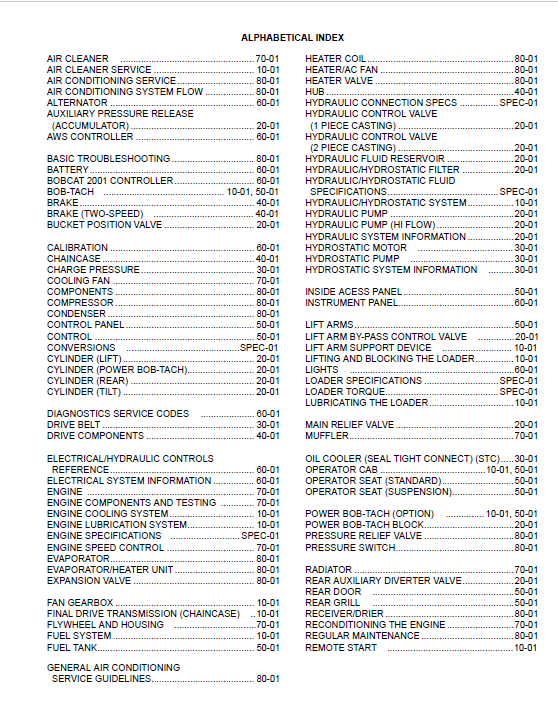 VIDEO PREVIEW OF THE MANUAL:
PLEASE NOTE:
This is the SAME MANUAL used by the dealerships to diagnose your vehicle
No waiting for couriers / posts as this is a PDF manual and you can download it within 2 minutes time once you make the payment.
Your payment is all safe and the delivery of the manual is INSTANT – You will be taken to the DOWNLOAD PAGE.
So have no hesitations whatsoever and write to us about any queries you may have : heydownloadss @gmail.com
S.V