2005-2006 Yamaha Fx160 Cruiser WaverunneR Watercraft Repair PDF Manual

Yamaha WaveRunner FX160! FX160 Cruiser Factory Service Repair Manual is the most complete
service repair manual for the Yamaha WaveRunner Fx160 Cruiser. This manual contains
service,repair procedure assembling disassembling, wiring diagrams and everything you need to know.
Service Repair Manual Covers: How to use This Manual Index General Information Specifications
Periodic Inspection and Adjustment Fuel System Power Unit Jet Pump Unit Electrical System Hull and
Trouble Analysis Wiring Diagram.
All of the procedures in this manual are organized in a sequential step-by-step format The information
has been compiled to provide the mechanic with an easy to read handy reference that contains
comprehensive explanations of all disassembly repair assembly and inspection operations
In this revised format the condition of a faulty component will precede an arrow symbol and the
course of action required will follow the symbol.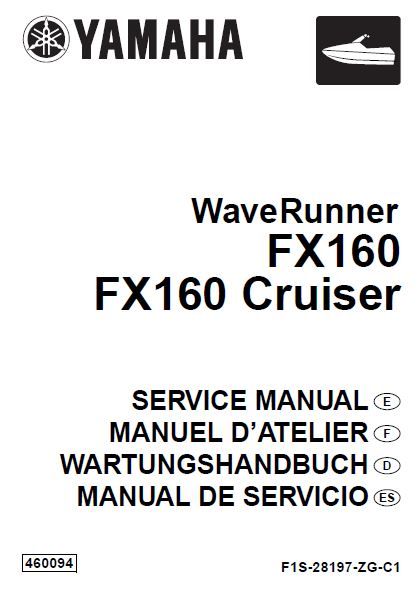 GENERAL INFORMATION
IDENTIFICATION NUMBERS 1-1
PRIMARY lD NUMBER 1-1
ENGINE SERIAL NUMBER 1-1
JET PUMP UNIT SERIAL NUMBER1-1
HULL IDENTIFICATION NUMBER (HlN)1-1
SAFETY WHILE WORKING1-2
FIRE PREVENTION1-2
VENTILATION1-2
SELF-PROTECTION1-2
PARTS LUBRICANTS AND SEALANTS 1-2
GOOD WORKING PRACTICES 1-3
DISASSEMBLY AND ASSEMBLY 1-4
SPECIAL TOOLS 1-5
MEASURING1-5
REMOVAL AND INSTALLATION1-7
SPECIFICATIONS
GENERAL SPECIFICATIONS 2-1
MAINTENANCE SPECIFICATIONS 2-3
ENGINE 2-3
JET PUMP UNIT 2-6
HULL AND HOOD 2-6
ELECTRICAL 2-7
TIGHTENING TORQUES 2-9
SPECIFIED TORQUES2-9
GENERAL TORQUE2-17
CABLE AND HOSE ROUTING 2-18
PERIODIC INSPECTION AND ADJUSTMENT
MAINTENANCE INTERVAL CHART3-1
PERIODIC SERVICE3-2
CONTROL SYSTEM 3-2
Steering master inspection3-2
Steering cable inspection and adjustment 3-2
Throttle cable inspection and adjustment3-3
QSTS cable inspection and adjustment 3-5
Shift cable inspection and adjustment3-7
Trolling speed check and adjustment3-8
FUEL SYSTEM3-9
Fuel line inspection 3-9
Water separator inspection 3-10
POWER UNIT3-10
Valve clearance adjustment 3-10
Engine oil level check3-16
Engine oil change — using oil changer3-18
Air filter element clean3-20
Spark plug inspection3-21
ELECTRICAL 3-24
Battery inspection3-24
JET PUMP UNIT 3-27
Impeller inspection 3-27
Water inlet strainer inspection3-27
BILGE PUMP3-28
Bilge strainer inspection 3-28
Electric bilge pump strainer inspection3-28
GENERAL 3-29
Drain plug inspection3-29
Lubrication points 3-29
*This is a High Quality PDF Manual ,
*All pages are printable.
*Instant Download
*All Versions of Windows & Mac