2004 Honda CBR1000RR SERVICE MANUAL – PDF DOWNLOAD
DESCRIPTION:
2004 Honda CBR1000RR SERVICE MANUAL – PDF DOWNLOAD
HOW TO USE THIS MANUAL
This service manual describes the service procedures for the CBR1000RR-4. Follow the Maintenance Schedule (Section 4) recommendations to ensure that the vehicle is in peak operating condition and the emission levels are within the standards set by the U.S. Environmental Protection Agency, California Air Resources Board and Transport Canada. Petiorming the first scheduled maintenance is very important.
It compensates for the initial wear that occurs during the break-in period. Sections 1 and 4 apply to the whole motorcycle. Section 3 il lustrates procedures for removal/installation of components that may be required to perform service described in the following sections. Section 5 through 20 describe parts or the motorcycle, grouped according to location.
Find the section you want on this page, then turn to lhe table of contents on the first page of the section . Most sections start with an assembly or system illustration, service information and troubleshooting for the section .
The subsequent pages give detailed procedure. If you are not familiar with this motorcycle, read Technical Features in Section 2. If you don't know the source ·of the trouble, go to section 22 Troubleshooting
GENERAL INFORMATION
SERVICE RULES
1. Use genuine Honda or Honda-recommended parts and lubricants or their equivalents. Parts that don 't meet Honda 's design specifications may cause damage to the motorcycle.
2. Use the special tools designed for this product to avoid damage and incorrect assembly.
3. Use only metric tools when servicing the motorcycle. Metric bolts, nuts and screws are not interchangeable with English fasteners.
4. Inst all new gaskets, 0 -rings, cotter pins, and lock plates when reassembling.
5. When tightening bolts or nuts, begin with the larger diameter or inner bolt first. Then tighten to the specified torque diagonally in incremental steps unless a particular sequence is specified.
6. Clean parts in cleaning solvent upon disassembly. Lubricate any sliding surfaces before reassembly.
7. After reassembly, check all parts for proper installation and operation.
8. Route all electrical wires as shown in the Cable and Harness Routing (page 1-24).
TABLE OF CONTENTS:
2004 Honda CBR1000RR SERVICE MANUAL – PDF DOWNLOAD
GENERAL INFORMATION –
TECHNICAL FEATURES ..
FRAME/BODY PANELS/EXHAUST Ill SYSTEM
MAINTENANCE – LUBRICATION SYSTEM
FUEL SYSTEM
(Pro rammed Fuel 1n·ection)
COOLING SYSTEM
ENGINE REMOVAUINSTALLATION
CYLINDER HEADNALVES
CLUTCH/STARTER CLUTCH
ALTERNATOR
TRANSMISSION/GEARSHIFT LINKAGE
CRANKCASE/CRANKSHAFT/BALANCER/
PISTON/CYLINDER
FRONT WHEEUSUSPENSION/
STEERING
REAR WHEEUSUSPENSION
HYDRAULIC BRAKE
BATTERY/CHARGING SYSTEM
IGNITION SYSTEM
ELECTRIC STARTER
LIGHTS/METERS/SWITCHES
WIRING DIAGRAM
TROUBLESHOOTING
INDEX
VIDEO PREVIEW OF THE MANUAL:

IMAGES PREVIEW OF THE MANUAL: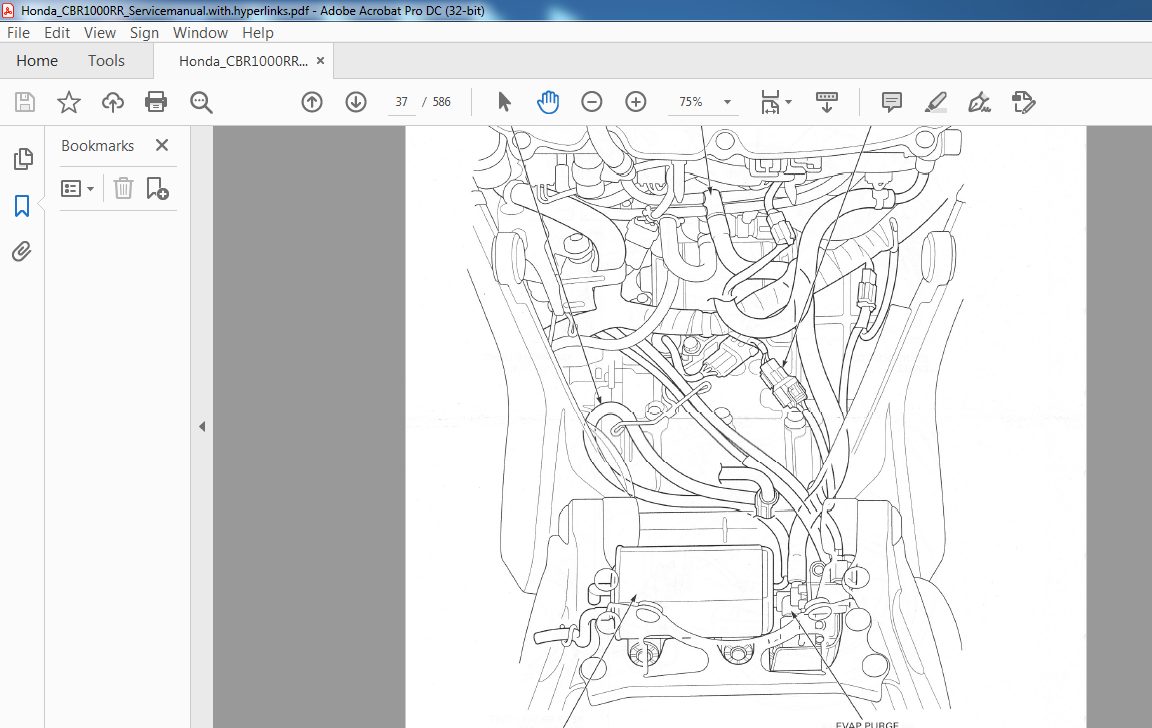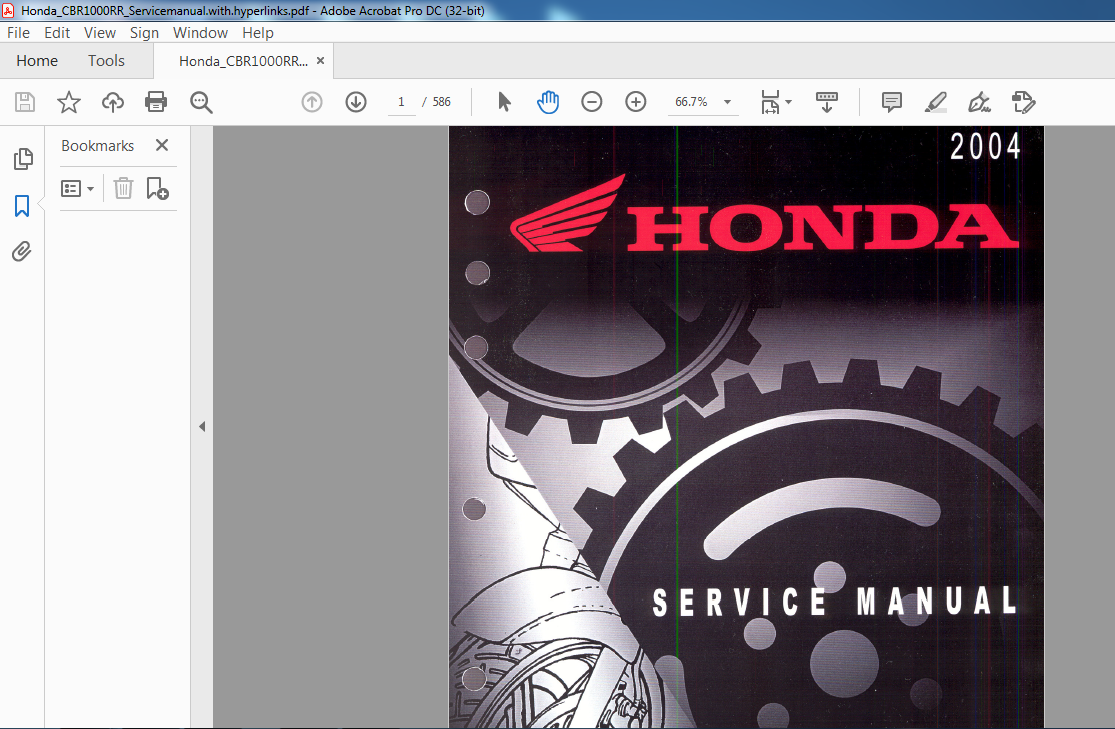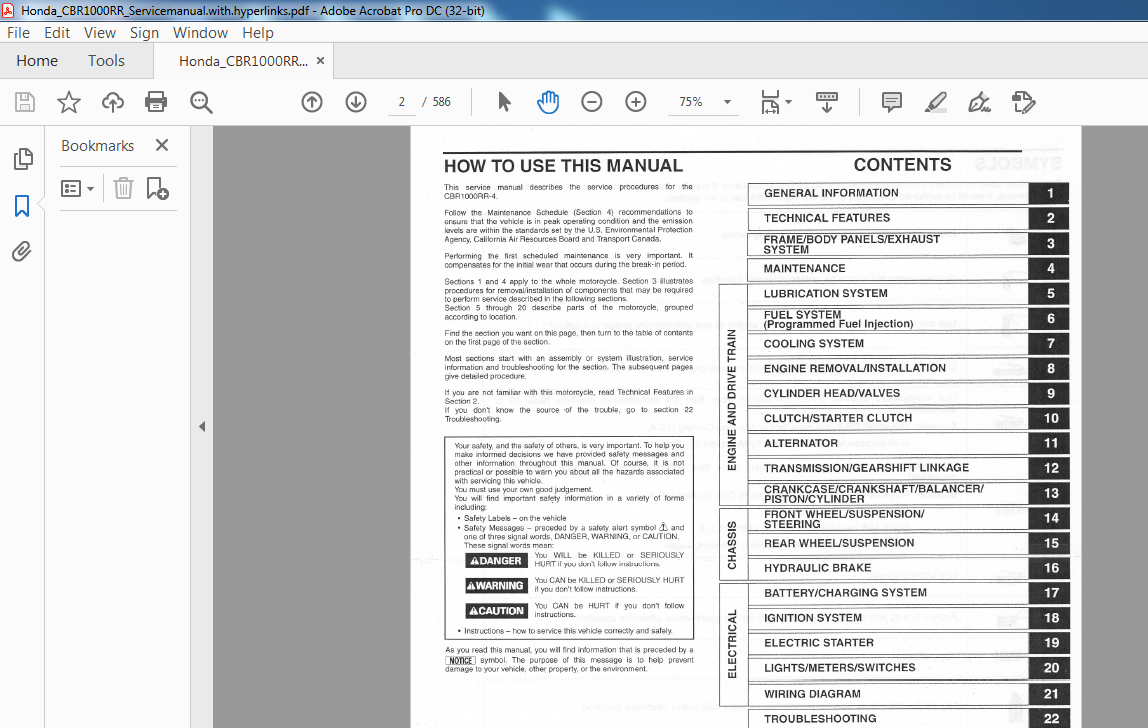 PLEASE NOTE:
This is the SAME manual used by the dealers to troubleshoot any faults in your vehicle. This can be yours in 2 minutes after the payment is made.
Contact us at [email protected] should you have any queries before your purchase or that you need any other service / repair / parts operators manual.
S.M