2002 Bmw E39 520i 523i 525i 530i 535i 540i 520d 525d 530d Owners Manual Instant
VIDEO PREVIEW OF THE MANUAL:
IMAGES PREVIEW OF THE MANUAL: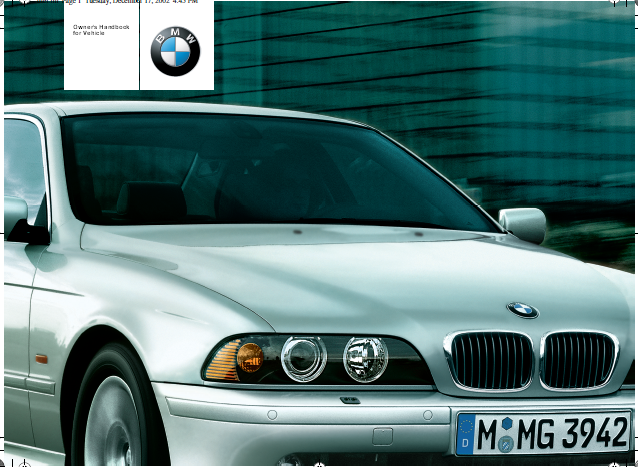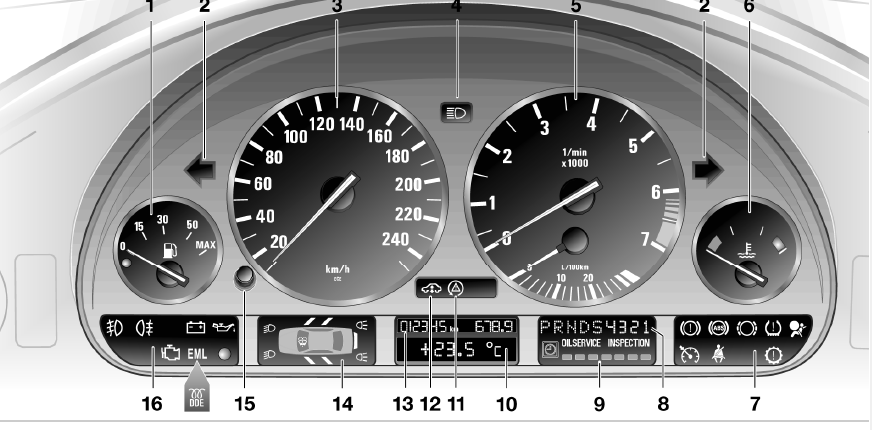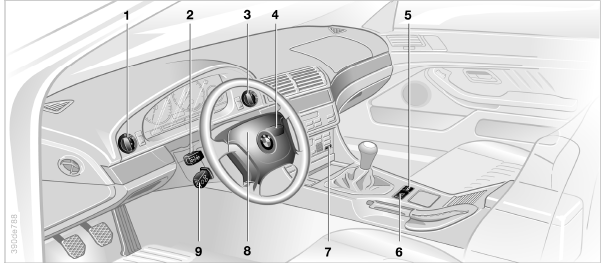 TABLE OF CONTENTS:
Driving area 12
Instrument panel 13
Indicator and warning lights 17
Steering wheel with multifunction
buttons 20
Warning triangle 21
First-aid kit 21
Refuelling 22
Fuel grades 23
Tyre pressures 24
Opening and closing:
Keys 32
Central locking system 32
Opening and closing
– via the door lock 33
Opening and closing
– via the remote control 34
Opening and closing
– from the inside 37
Luggage compartment lid/
tailgate 38
Rear window 40
Luggage compartment/load
area 43
Alarm system 44
Electric windows 45
Sliding/tilt sunroof 47
Adjusting:
Correct seated position 49
Seats 49
Seat adjustment, mechanical 50
Seat adjustment, electric 51
Head restraints 53
BMW Active seat 53
Seat belts 54
Seat, mirror and
steering wheel memory 55
Seat heating 56
Adjusting steering wheel 57
Steering wheel heating 58
Mirrors 58
Safety systems:
Airbags 60
Carrying children in safety 61
Car Memory, Key Memory 64
Driving:
Ignition switch 66
Starting the engine 66
Stopping the engine 68
Handbrake 68
Manual gearbox 69
Automatic transmission with
Steptronic 70
Turn indicators/headlight
flasher 72
Wipers/rain sensor 73
Cruise control 74
Everything under control:
Distance recorder (odometer);
outside temperature
display 77
Revolution counter 78
Energy Control 78
Fuel gauge 78
Coolant thermometer 79
Service Interval indicator 80
Check Control 81
Computer 84
Multi-Information Display
(MID) 85
Digital clock in MID 86
Computer in MID 89
Telephone operation via MID 94
DESCRIPTION:
We have tried to make all the information in this Owner's Handbook easy to find. The quickest access to a particular topic or item is by consulting the detailed alphabetical index at the end. Consult the first chapter for an initial overview of your car. The detailed list of contents on the preceding pages is intended to arouse your curiosity about your new BMW and encourage you to read this information carefully. When the time comes to sell your BMW, please remember to hand over this Owner's Handbook; it is regarded legally as part of the vehicle. If you have any queries, BMW Service will be glad to advise you.