2002 – 2013 Yamaha BT1100 Bulldog Workshop Repair Service Manual – PDF Download ( years 2002 2003 2004 2005 2006 2007 2008 2009 2010 2011 2012 2013 )
IMAGE PREVIEW: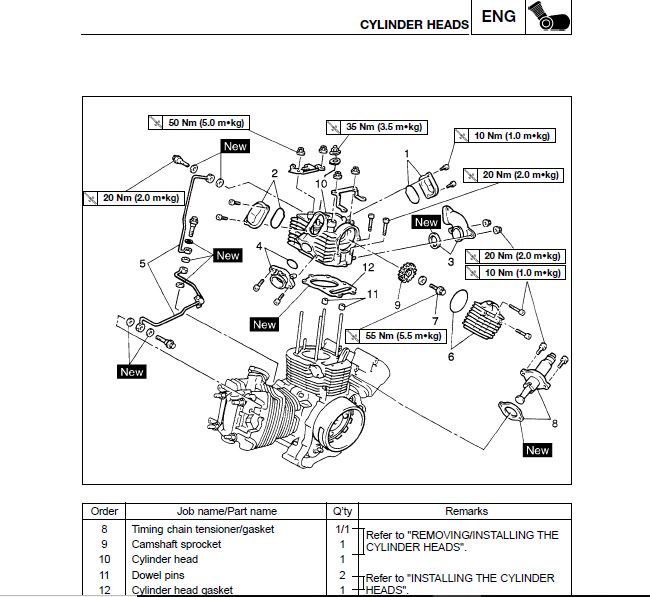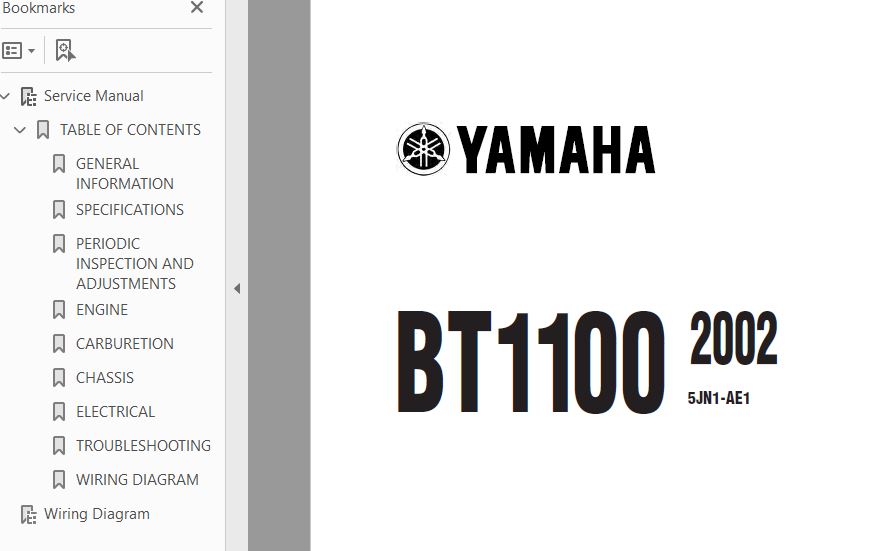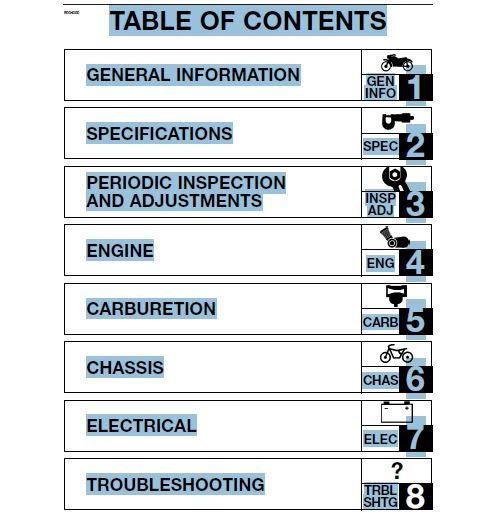 DESCRIPTION:
This manual was produced by the Belgarda S.p.A. primarily for use by Yamaha dealers and their qualified mechanics. It is not possible to include all the knowledge of a mechanic in one manual. Therefore, anyone who uses this book to perform maintenance and repairs on Yamaha vehicles should have a basic understanding of mechanics and the techniques to repair these types of vehicles. Repair and maintenance work attempted by anyone without this knowledge is likely to render the vehicle unsafe and unfit for use. Belgarda S.p.A. is continually striving to improve all of its models. Modifications and significant changes in specifications or procedures will be forwarded to all authorized Yamaha dealers and will appear in future editions of this manual where applicable
Format: PDF 
System: All Versions of Windows, Mac, iOS, BB, Android, etc.. 
Requirements: Adobe PDF Reader. 
Printable: Yes 
DRM-protection: complete free 
Language: English 
This manual is intended as a handy, easy-to-read reference book for the mechanic. Comprehensive explanations
of all installation, removal, disassembly, assembly, repair and check procedures are laid out
with the individual steps in sequential order.
1 The manual is divided into chapters. An abbreviation and symbol in the upper right corner of each page
indicate the current chapter.
Refer to "SYMBOLS".
2 Each chapter is divided into sections. The current section title is shown at the top of each page, except
in Chapter 3 ("PERIODIC CHECKS AND ADJUSTMENTS"), where the sub-section title(s) appears.
3 Sub-section titles appear in smaller print than the section title.
4 To help identify parts and clarify procedure steps, there are exploded diagrams at the start of each removal
and disassembly section.
5 Numbers are given in the order of the jobs in the exploded diagram. A circled number indicates a disassembly
step.
6 Symbols indicate parts to be lubricated or replaced.
Refer to "SYMBOLS".
7A job instruction chart accompanies the exploded diagram, providing the order of jobs, names of parts,
notes in jobs, etc.
8 Jobs requiring more information (such as special tools and technical data) are described sequentially.
GENERAL INFORMATION
TABLE OF CONTENTS
GEN
INFO 1
SPECIFICATIONS
SPEC 2
PERIODIC INSPECTION
AND ADJUSTMENTS INSP
ADJ 3
ENGINE
ENG 4
CARBURETION
CARB 5
CHASSIS
CHAS 6
ELECTRICAL
ELEC 7
TROUBLESHOOTING TRBL
SHTG
PLEASE NOTE:
This is the same manual used by the DEALERSHIPS to SERVICE your vehicle.
The manual can be all yours – Once payment is complete, you will be taken to the download page from where you can download the manual. All in 2-5 minutes time!!
Need any other service / repair / parts manual, please feel free to contact us at heydownloadss @gmail.com . We may surprise you with a nice offer