2000 – 2011 Suzuki Dr z400sm And Dr z400s Supermoto Owner Manual + Service Manual
FILE DETAILS:
LANGUAGE:ENGLISH
PAGES:556
DOWNLOADABLE:YES
FILE TYPE:PDF
VIDEO PREVIEW OF THE MANUAL:
IMAGES PREVIEW OF THE MANUAL: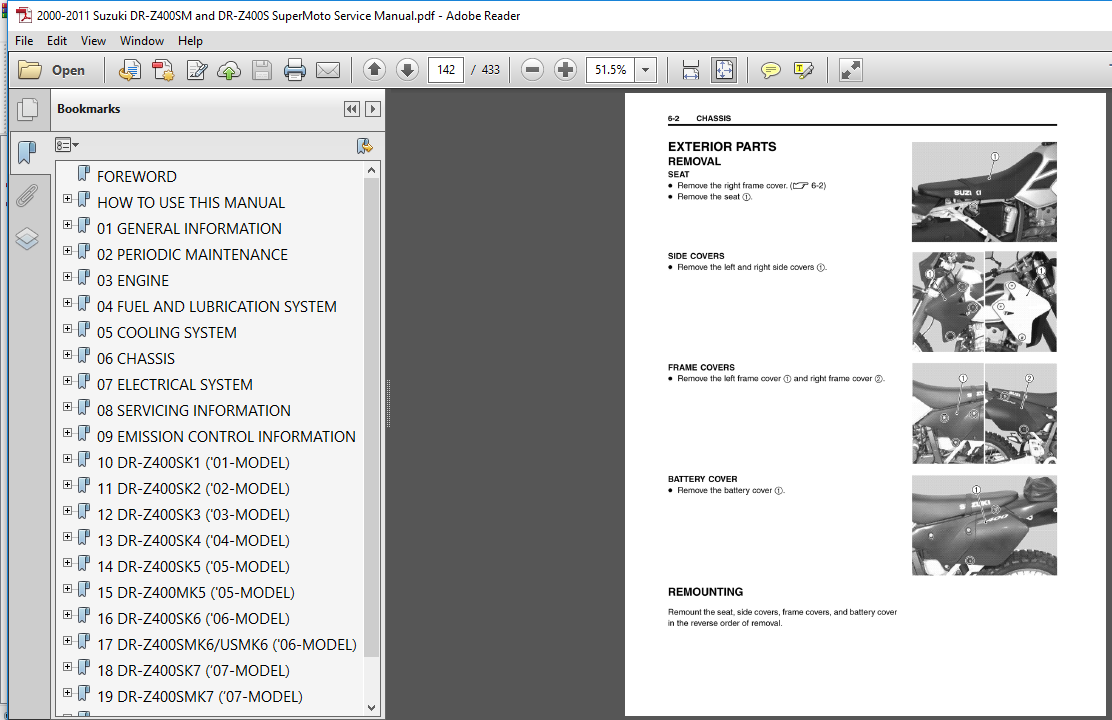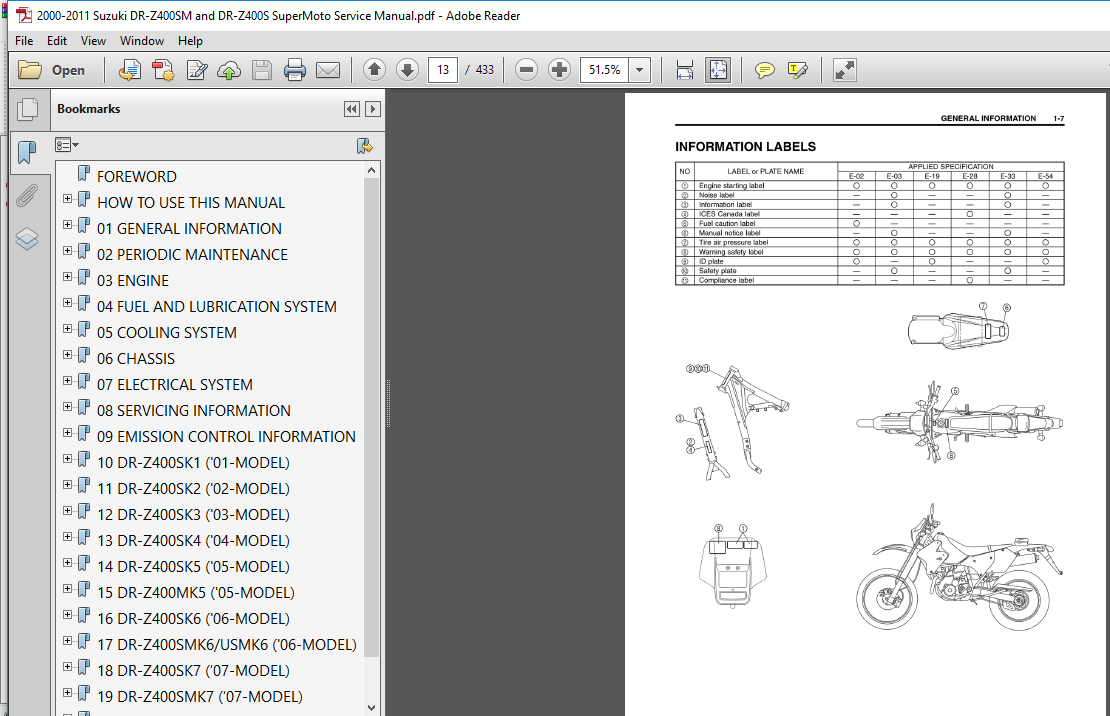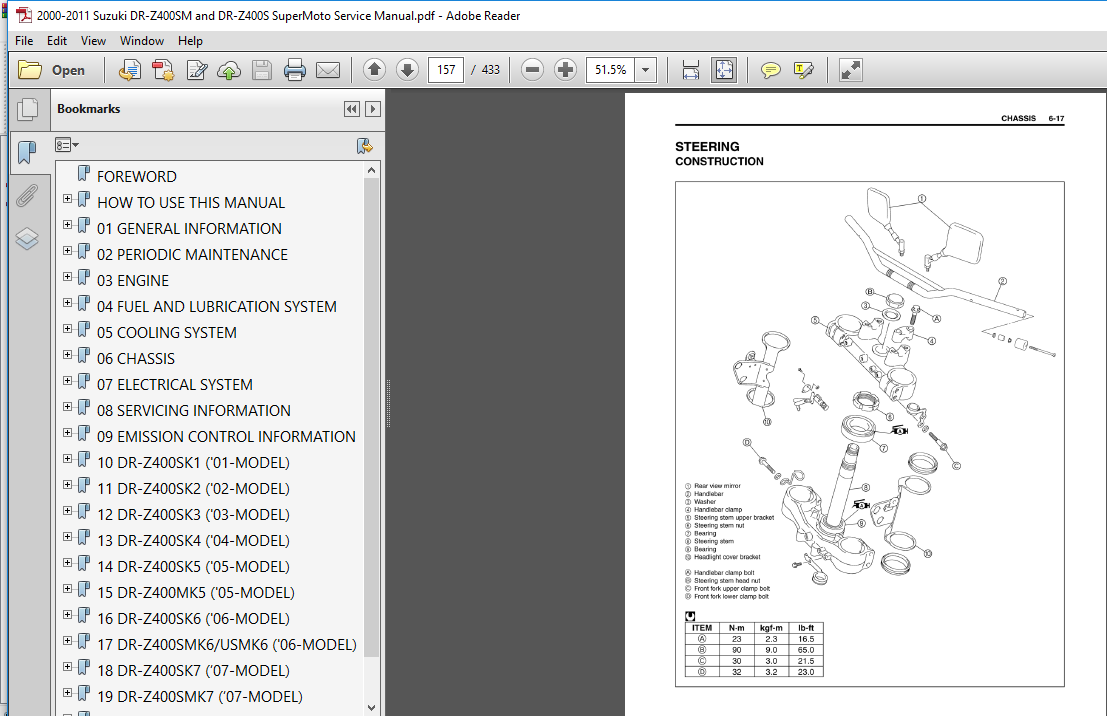 DESCRIPTION:
2000 – 2011 Suzuki Dr z400sm And Dr z400s Supermoto Owner Manual + Service Manual
FOREWORD:
This manual contains an introductory description on the SUZUKI DR-Z400S and procedures for its inspection, service and overhaul of its main components. Other information considered as generally known is not included. Read the GENERAL INFORMATION section to familiarize yourself with the motorcycle and its maintenance. Use this section as well as other sections as a guide for proper inspection and service. This manual will help you know the motorcycle better so that you can assure your customers of fast and reliable service.
 Motorcycling is one of the most exhilarating sports and to ensure your riding enjoyment, you should become thoroughly familiar with the information presented in this Owner's Manual before riding the motorcycle.
The proper care and maintenance that your motorcycle requires is outline in this manual. By following these instructions explicitly you will ensure a long trouble-free operating life for your motorcycle. This motorcycle also conforms to the U.S. Environmental Protection Agency (EPA) and California Air Resource Board (CARB) emission regulations which apply to new motorcycles.
The Proper adjustment of engine components is necessary for this motorcycle to comply with the EPA and CARB regulations. Therefore, please follow the maintenance instructions closely to ensure emission compliance. Your authorized Suzuki dealer has experienced technicians that are trained to provide your machine with the best possible service with the right tools and equipment.
All information, illustrations, photographs and specifications contained in this manual are based on the latest product information available at the time of publication. Due to improvements or other changes, there may be some discrepancies between information in this manual and your motorcycle.
Suzuki reserves the right to make production changes at any time, without notice and without incurring any obligation to make the same or similar changes to vehicles previously built or sold.
Suzuki Motor Corporation believes in conservation and protection of Earth's natural resources. To that end, we encourage every vehicle owner to recycle, trade in, or properly dispose of, as appropriate, used motor oil, coolant and other fluids, batteries, and tires.
TABLE OF CONTENTS:
2000 – 2011 Suzuki Dr z400sm And Dr z400s Supermoto Owner Manual + Service Manual
FOREWORD
HOW TO USE THIS MANUAL
01 GENERAL INFORMATION
02 PERIODIC MAINTENANCE
03 ENGINE
04 FUEL AND LUBRICATION SYSTEM
05 COOLING SYSTEM
06 CHASSIS
07 ELECTRICAL SYSTEM
08 SERVICING INFORMATION
09 EMISSION CONTROL INFORMATION
PLEASE NOTE:
This is the SAME manual used by the dealers to troubleshoot any faults in your vehicle. This can be yours in 2 minutes after the payment is made.
Contact us at [email protected] should you have any queries before your purchase or that you need any other service / repair / parts operators manual.