1979-1985 Kawasaki KZ500 550 & ZX550 Service Manual – PDF DOWNLOAD
DESCRIPTION:
1979-1985 Kawasaki KZ500 550 & ZX550 Service Manual – PDF DOWNLOAD
INTRODUCTION:
This detailed, comprehensive manual covers Kawasaki KZ500/550 and ZX550 models. The expert text gives complete information on maintenance, repair and overhaul. Hundreds of photos and drawings guide you through every step. The book includes all you need to know to keep your bike running right. Chapters One through Ten contain general information on all models and specific information on 1979-1 98 1 models.
The Supplement at the end of the book contains information on 1982 and later models that differ from earlier years. Where repairs are practical for the owner/mechanic, complete procedures are given. Equally important, difficult jobs are pointed out. Such operations are usually more economically performed by a dealer or independent garage.
A shop manual is a reference. You want to be able to find information fast. As in all Clymer books, this one is designed with this in mind. All chapters are thumb tabbed. Important items are indexed at the end of the book. All the most frequently used specifications and capacities are summarized on the Quick Reference pages at the beginning of the book. Keep the book handy. It will help you to better understand your Kawasaki, lower repair and maintenance costs and generally improve your satisfaction with your bike.
GENERAL INFORMATION:
The troubleshooting, maintenance, tune-up, and step-by-step repair procedures in this book are written specifically for the owner and home mechanic. The text is accompanied by helpful photos and diagrams to make the job as clear and correct as possible. Troubleshooting, maintenance, tune-up, and repair are not difficult if you know what to do and what tools and equipment to use. Anyone of average intelligence, with some mechanical ability, and not afraid to get their hands dirty can perform most of the procedures in this book. In some cases, a repair job may require tools or skills not reasonably expected of the home mechanic.
These procedures are noted in each chapter and it is recommended that you take the job to your dealer, a competent mechanic, or a machine shop. MANUAL ORGANIZATION This chapter provides general information, safety and service hints. Also included are lists of recommended shop and emergency tools as well as a brief description of troubleshooting and tune-up equipment. Chapter Two provides methods and suggestions for quick and accurate diagnosis and repair of problems. Troubleshooting procedures discuss typical symptoms and logical methods to pinpoint the trouble.
Chapter Three explains all periodic lubrication and routine maintenance necessary to keep your motorcycle running well. Chapter Three also includes recommended tune-up procedures, eliminating the need to constantly consult chapters on the various subassemblies. Subsequent chapters cover specific systems such as the engine, transmission, and electrical system.
Each of these chapters provides disassembly, inspection, repair, and assembly procedures in a simple step-by-step format. If a repair is impractical for the home mechanic it is indicated. In these cases it is usually faster and less expensive to have the repairs made by a dealer or competent repair shop. Essential specifications are included in the appropriate chapters. When special tools are required to perform a task included in this manual, the tools are illustrated. It may be possible to borrow or rent these tools. The inventive mechanic may also be able to find a suitable substitute in his tool box, or to fabricate one.
TABLE OF CONTENTS:
1979-1985 Kawasaki KZ500 550 & ZX550 Service Manual – PDF DOWNLOAD
Chapter One
General Information
Chapter Two
Troubleshooting
Chapter Three
Periodic Maintenance, Lubrication and Tune-up
Chapter Four
Engine
Chapter Five
Clutch
Chapter Six
Transmission
Chapter Seven
Fuel and Exhaust
Chapter Eight
Electrical Systems
Chapter Nine
Wheels, Tires and Brakes
Chapter Ten
Chassis
Supplement
1982 and Later Service lnformation
Index
Wiring Diagrams
QUICK REFERENCE DATA ………………………………………………………………………………….. XI
CHAPTER ONE
GENERAL INFORMATION ……………………………………………………………………………………….. 1
Manual organization
Service hints
Safety first
Expendable supplies
Shop tools
Emergency tool kits
Troubleshooting and tune-up
equipment
CHAPTER TWO
TROUBLESHOOTING ………………………………………………………………………………………………. 9
Starting difficulties
Poor performance
Clutch and transmission
Drive train
Chassis
Brakes
Electrical system
Charging system
Lighting
Fuses
Wiring
CHAPTERTHREE
LUBRICATION, MAINTENANCE AND TUNE-UP ……………………………………………………….. 33
Battery
Engine oil and filter
General lubrication
Clutch adjustment
Drive chain
Swing arm
Steering
Front forks
Rear shock absorbers
Tires
Wheel bearing lubrication
Disc brake
Drum brake
Engine tune-up
Air filter
Nuts, bolts and fasteners
Fuel system
Spark plugs
Air suction valves (U.S. models)
Valve clearance
Contact breaker points
Ignition timing
(Contact point ignition)
Ignition timing
(Transistorized ignition)
Carburetor
Cylinder compression
Storage
CHAPTER FOUR ENGINE …………………………………………………………………………………………………………………7 0
Tools
Engine design
Break-in
Servicing engine in frame
Cam chain and tensioner
Valve cover
Camshaft
Cylinder head
Valves and guides
Cylinder block
Pistons and rings
Oil cooler
Removal/installation
Oil filter bypass valve
Oil pump
Crankcase
Secondary shaft and starter clutch
Crankshaft and connecting rods
Cam chain inspection
Primary chain inspection
Crankcase assembly
CHAPTER FIVE
CLUTCH ……………………………………………………………………………………………………………. 124
Operation
Clutch release mechanism
Clutch
CHAPTER SIX
TRANSMlSSlON ……………….. .. …………………………………………………………………………… 133
Sprocket cover
Neutral switch
Engine sprocket
Shift linkage
Shift detent
Transmission
Shift drum and forks
Transmission gears
CHAPTERSEVEN FUEL AND EXHAUST SYSTEMS ……………………………………………………………………….. 148
Carburetor operation
Carburetor troubleshooting
Rejetting
Carburetor tuning
Carburetor service
Fuel level inspection
Idle mixture adjustment
(Non-U.S. models)
Fast idle adjustment
Crankcase breather
Air suction system
(U.S. models)
Fuel tank
Fuel tap
Fuel level sending unit
Exhaust system
CHAPTER EIGHT ELECTRICAL SYSTEM ………………………………………………………………………………………… 169
Wiring diagrams
Fuses
Battery
Ignition system
Contact breaker points and
condenser service
Spark plugs
Ignition advance mechanism
Ignition coil
Pickup coils
(Transistorized ignition)
Alternator stator
Alternator rotor
Starting system
Starter motor
Starter clutch
Starter solenoid
Lighting system
Turn signal cancelling system
Fuel level sensor
Fuel gauge
Horn
CHAPTER NINE WHEELS, TIRES AND BRAKES …………… ……. …………………………………….1 92
Wheels
Front wheel
Speedometer gear lubrication
Rear wheel
Wheel bearings and seals
Tubeless tires
Brakes
Hydraulic disc brakes
Brake system bleeding
Brake fluid change
Brake line replacement
Disc brake pad replacement
Disc brake calipers
Master cylinder rebuilding
Front master cylinder
Rear master cylinder
Brake discs
Drum brake
CHAPTERTEN
CHASSIS …………………………………………………………………………………………………………..2..2 8
Fairing
Front forks
Steering head
Rear shock
Swing arm
Drive chain
SUPPLEMENT
1982 AND LATER SERVICE INFORMATION …………………………………………………….. 246
INDEX ………………………………………………………………………………………………………. 307
WIRING DIAGRAMS ……………….. . …………………………………………………..E..n d Of Book
VIDEO PREVIEW OF THE MANUAL:
IMAGES PREVIEW OF THE MANUAL: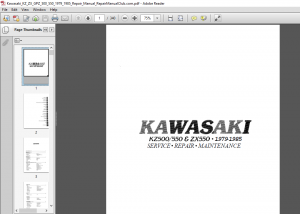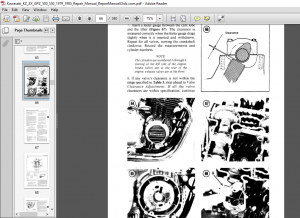 PLEASE NOTE:
This is not a physical manual but a digital manual – meaning no physical copy will be couriered to you. The manual can be yours in the next 2 mins as once you make the payment, you will be directed to the download page IMMEDIATELY.
This is the same manual used by the dealers inorder to diagnose your vehicle of its faults.
Require some other service manual or have any queries: please WRITE to us at [email protected]
S.V