1978 – 1999 Bf2hp bf130hp 4 stroke Outboard Repair Manual
FILE DETAILS:
LANGUAGE:ENGLISH
PAGES:369
DOWNLOADABLE:YES
FILE TYPE:PDF
VIDEO PREVIEW OF THE MANUAL:
IMAGES PREVIEW OF THE MANUAL: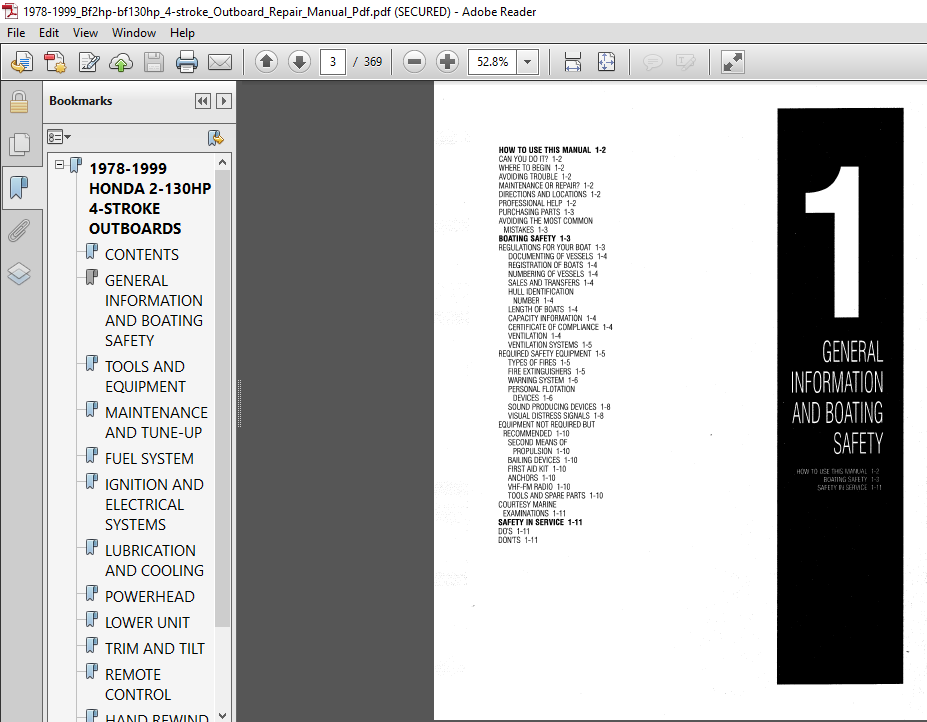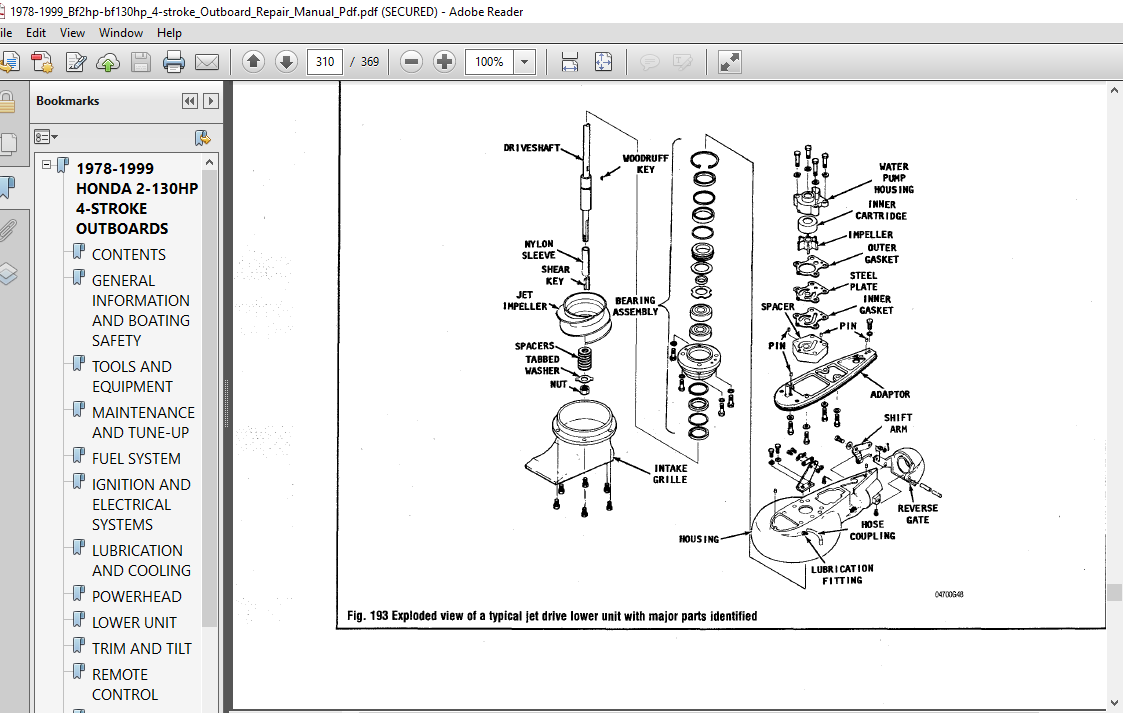 DESCRIPTION:
1978 – 1999 Bf2hp bf130hp 4 stroke Outboard Repair Manual
HOW TO USE THIS MANUAL :
This manual is designed to be a handy reference guide to maintaining and repairing your Honda 4-stroke outboard. We strongly believe that regardless of how many or how few years experience you may have, there is something new waiting here for you. This manual covers the topics that a factory service manual (designed for factory trained mechanics) and a manufacturer owner's manual (designed more by lawyers these days) covers.
It will take you through the basics of maintaining and repairing your outboard, step-by-step, to help you understand what the factory trained mechanics already know by heart. By using the information in this manual, any boat owner should be able to make better informed decisions about what they need to do to maintain and enjoy their outboard.
Even if you never plan on touching a wrench (and if so, we hope that you will change your mind), this manual will still help you understand what a mechanic needs to do in order to maintain your engine.
General Precautions:
Ventilation systems will not remove raw gasoline that leaks from tanks or fuel lines. If you smell gasoline fumes, you need immediate repairs. The best device for sensing gasoline fumes is your nose. Use it! If you smell gasoline in an engine compartment or elsewhere, don't start your engine. The smaller the compartment, the less gasoline it takes to make an explosive mixture. Ventilation for Open Boats In open boats, gasoline vapors are dispersed by the air that moves through them.
So they are exempt from ventilation requirements. To be "open," a boat must meet certain conditions. Engine and fuel tank compartments and long narrow compartments that join them must be open to the atmosphere."
This means they must have at least 15 square inches of open area for each cubic foot of net compartment volume. The open area must be in direct contact with the atmosphere. There must also be no long, unventilated spaces open to engine and fuel tank compartments into which flames could extend.
TABLE OF CONTENTS:
1978 – 1999 Bf2hp bf130hp 4 stroke Outboard Repair Manual
1978-1999 HONDA 2-130HP 4-STROKE OUTBOARDS....  1
	CONTENTS..................................  1
	GENERAL INFORMATION AND BOATING SAFETY....  3
	TOOLS AND EQUIPMENT....................... 15
	MAINTENANCE AND TUNE-UP................... 31
	FUEL SYSTEM............................... 71
	IGNITION AND ELECTRICAL SYSTEMS...........105
	LUBRICATION AND COOLING...................165
	POWERHEAD.................................181
	LOWER UNIT................................237
	TRIM AND TILT.............................313
	REMOTE CONTROL............................329
	HAND REWIND STARTER.......................349
	GLOSSARY..................................361
	MASTER INDEX..............................365

PLEASE NOTE:
This is the same manual used by the DEALERSHIPS to SERVICE your vehicle.
The manual can be all yours – Once payment is complete, you will be taken to the download page from where you can download the manual. All in 2-5 minutes time!!
Need any other service / repair / parts manual, please feel free to contact us at heydownloadss @gmail.com . We may surprise you with a nice offer