1954 Cessna 120 & 140 Parts Catalog Manual – PDF DOWNLOAD
FILE DETAILS:
1954 Cessna 120 & 140 Parts Catalog Manual – PDF DOWNLOAD
Language : English
Pages : 145
Downloadable : Yes
File Type : PDF
Size: 13.7 MB
IMAGES PREVIEW OF THE MANUAL: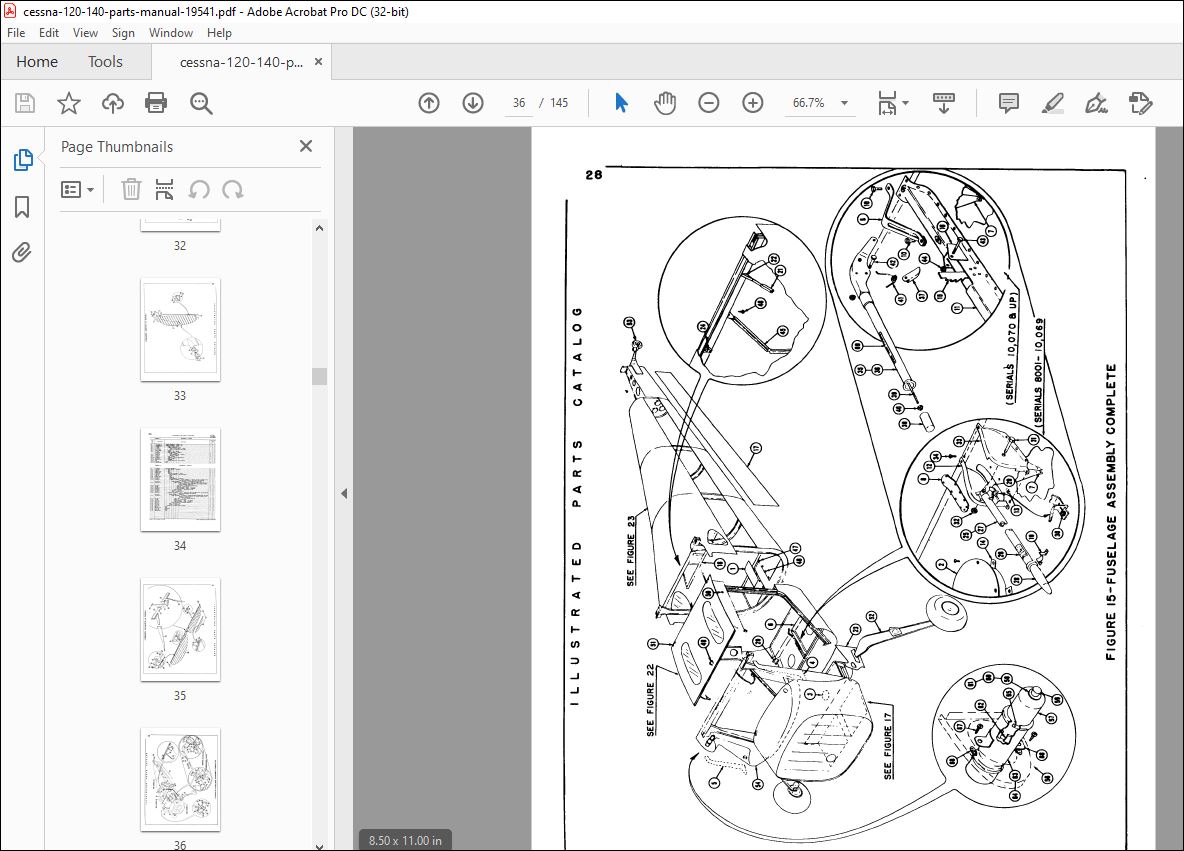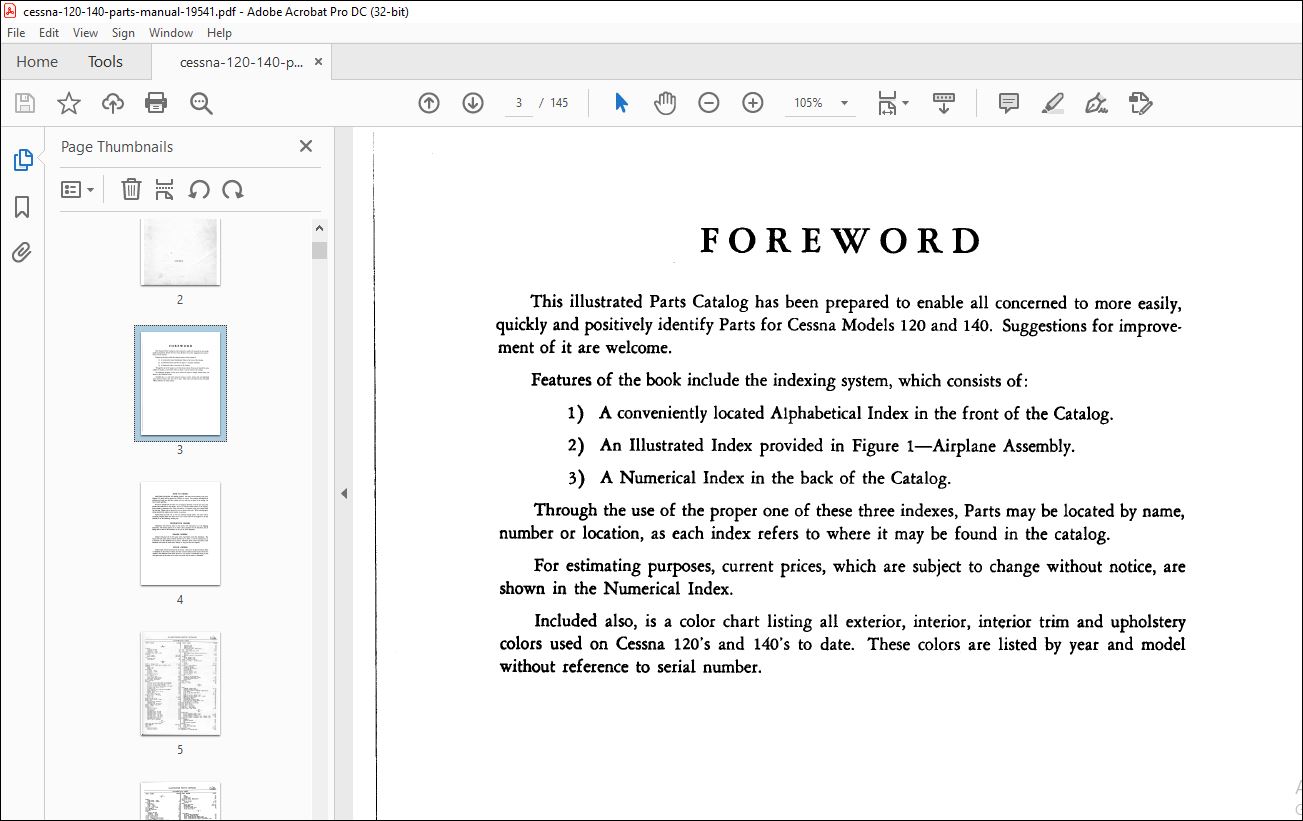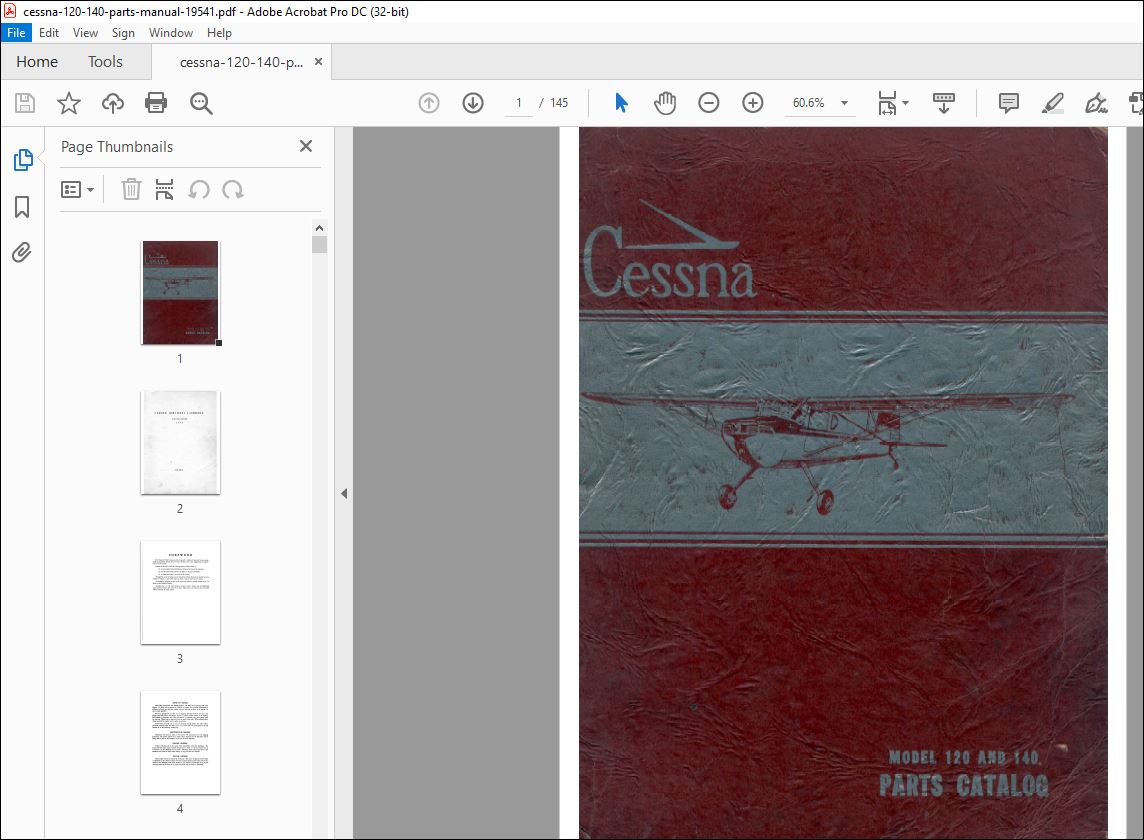 DESCRIPTION:
1954 Cessna 120 & 140 Parts Catalog Manual – PDF DOWNLOAD
FOREWORD:
This illustrated Parts Catalog has been prepared to enable all concerned to more easily,
quickly and positively identify Parts for Cessna Models 120 and 140. Suggestions for improvement
of it are welcome.
Features of the book include the indexing system, which consists of:
1) A conveniently located Alphabetical Index in the front of the Catalog.
2) An Illustrated Index provided in Figure 1-Airplane Assembly.
3) A Numerical Index in the back of the Catalog.
Through the use of the proper one of these three indexes, Parts may be located by name,
number or location, as ea ch index ref ers to where it may be found in the catalog.
For estimating purposes, current prices, which are subject to change without notice, are
shown in the Numerical Index.
Included also, is a color chart listing all exterior, interior, interior trim and upholstery
colors used on Cessna 120's and 140's to date. These colors are listed by year and model
without reference to serial number.
HOW TO ORDER
USE YOUR CATALOG TO ORDER PARTS. Use Parts and Accessories order form
Number 573, which will be supplied by CESSNA on request. Give complete information on
addresses and make sure that part number and part name are as shown in the catalog. Be
sure to state quantities.
Be sure to specify how the order is to be shipped, otherwise it will be sent out in the
manner that seems best to the shipper. Be sure to indicate model number of the airplane.
Serial number is important only if that information is contained in the parts catalog itself
for that item. Where color is involved, be sure to specify what color. When ordering upholstering
material the airplane serial number is necessary.
Factory hours are 8:00 A.M; to 4:30 P.M. Monday through Friday. Ali orders will be
processed promptly within the above hours and in most cases will be shipped on the day
received or on the following working day.
DISTRIBUTOR ORDERS
Distributors will send ali orders to the factory with instructions as to the shipping
destination. The factory prefers not to make C.O.D. shipments for the distributor and ali
billing will be made to the distributor in the case of direct shipments.
DEALER ORDERS
Dealers will place ali of their parts order requ1rements with their distributor. The
factory will not honor orders received directly from a dealer. It will be necessary for us
to forward it to the distributor for his action. Therefore, dealer orders sent direct to the
distributor will result in much faster delivery on any parts that are required.
RETAIL ORDERS
Retail orders will not be horiored by the factory. They are to be placed with the dealer
or distributor in the owner's territory and when received directly by the factory will be forwarded
to the distributor from whose territory it was received. Considerable saving in time
will again result to the owner if bis orders are placed with bis dealer or distributor.
PLEASE NOTE:
This is the same manual used by the DEALERSHIPS to SERVICE your vehicle.
The manual can be all yours – Once payment is complete, you will be taken to the download page from where you can download the manual. All in 2-5 minutes time!!
Need any other service / repair / parts manual, please feel free to contact us at heydownloadss @gmail.com . We may surprise you with a nice offer
S.V