Here you will find the download links to Complete Nissan Frontier Service Repair Workshop manuals:
NISSAN FRONTIER SERVICE MANUALS
These manuals contain step-by-step instructions accompanied by hundreds of photographs to help you with any task from basic repair to simple maintenance for your Nissan Frontier. Repair manuals use a basic set of tools in an easy way that allow you to save time and money by doing it yourself. All repair procedures are supported by detailed specifications, exploded view and photographs.

Nissan Frontier Service ManualS contains the following:
QUICK REFERENCE INDEX
A GENERAL INFORMATION GI General Information
B ENGINE EM Engine Mechanical
LU Engine Lubrication System
CO Engine Cooling System
EC Engine Control System
FL Fuel System
EX Exhaust System
STR Starting System
ACC Accelerator Control System
C HYBRID
D TRANSMISSION & DRIVELINE
TM Transaxle & Transmission
DLN Driveline
FAX Front Axle
RAX Rear Axle
E SUSPENSION FSU Front Suspension
RSU Rear Suspension
WT Road Wheels & Tires
F BRAKES BR Brake System
PB Parking Brake System
BRC Brake Control System
G STEERING ST Steering System
STC Steering Control System
H RESTRAINTS SB Seat Belt
SBC Seat Belt Control System
SR SRS Airbag
SRC SRS Airbag Control System
I VENTILATION, HEATER &
AIR CONDITIONER
VTL Ventilation System
HA Heater & Air Conditioning System
HAC Heater & Air Conditioning Control System
J BODY INTERIOR INT Interior
IP Instrument Panel
SE Seat
ADP Automatic Drive Positioner
K BODY EXTERIOR,
DOORS, ROOF & VEHICLE
SECURITY
DLK Door & Lock
SEC Security Control System
GW Glass & Window System
PWC Power Window Control System
RF Roof
EXT Exterior
BRM Body Repair Manual
L DRIVER CONTROLS MIR Mirrors
EXL Exterior Lighting System
INL Interior Lighting System
WW Wiper & Washer
DEF Defogger
HRN Horn
M ELECTRICAL & POWER
CONTROL
PWO Power Outlet
BCS Body Control System
LAN LAN System
PCS Power Control System
CHG Charging System
PG Power Supply, Ground & Circuit Elements
N DRIVER INFORMATION &
MULTIMEDIA
MWI Meter, Warning Lamp & Indicator
WCS Warning Chime System
AV Audio, Visual & Navigation System
O CRUISE CONTROL CCS Cruise Control System
DAS Driver Assistance System
DMS Drive Mode System
P MAINTENANCE MA Maintenance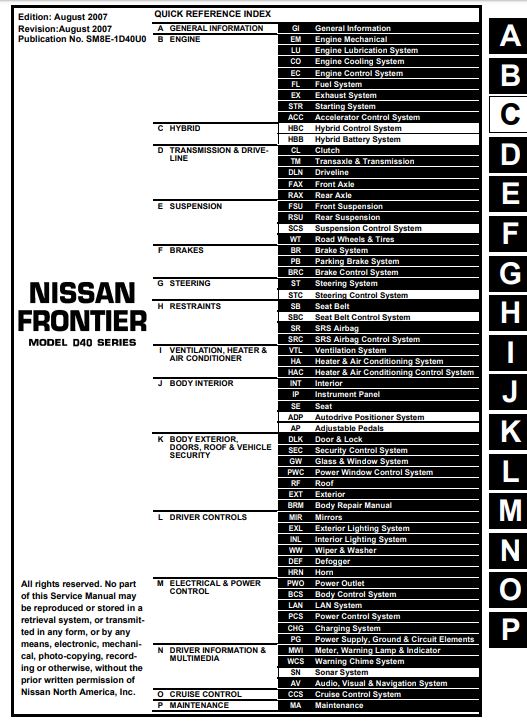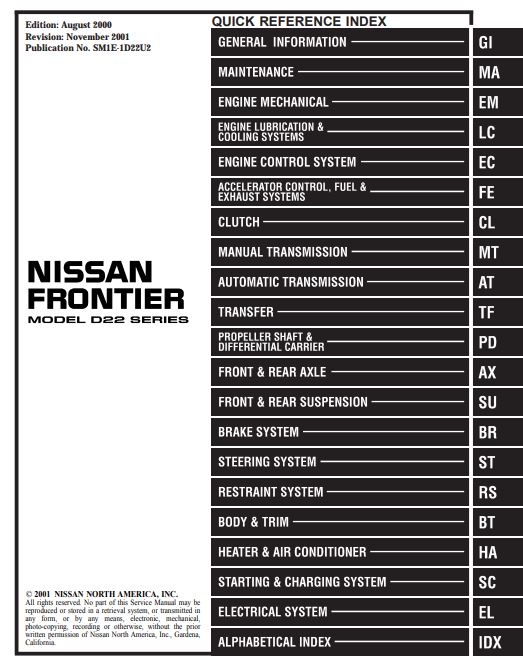 Quick Review of BRAKE SYSTEM SECTION